Lone Star College-CyFair's recent Scholar/Donor Program was not only an opportunity to celebrate student success, but to give scholarship recipients a chance to meet and thank donors for their generous support.
"Our students were excited to visit and thank their donors in person," said Haydee Baril, LSC-CyFair Scholarship Advisor. "Each of our scholarship recipients has a unique story and four of them - Dana Ashrawi, Andrew Payne, Rebeca Perales and Thomas Schroeder – were guest speakers who shared their amazing stories with us this year."
Ashrawi, who already had a bachelor's and master's, decided to return to school to become a nurse for several reasons: 1. after watching the excellent nursing care her father received while dying of cancer; 2. consulting with a nurse who specialized in epilepsy and 3. seeing her husband struggling to find meaningful employment having been laid off from the IT industry.
"My husband was unemployed/underemployed for four years, our older children started college and our youngest child developed epilepsy. We tapped our retirement savings accounts to get by and expenses added up quickly," said Ashrawi, recipient of St. Luke's Episcopal Health System Scholarship. "This scholarship was a huge help. It was also a pat on the back for me, as I had maintained a 4.0 GPA in my prerequisites to get into the nursing program and the scholarship is based on GPA."
Ashrawi and her husband are both students in LSC-CyFair's Associate Degree Nursing program. She said all her classes have been excellent learning experiences with professors who were very supportive and encouraging. Being inducted into the Phi Theta Kappa Honor Society and presenting a talk at the student symposium last spring have been personally enriching experiences, said Ashrawi, who is also the community outreach coordinator of First Unitarian Universalist Church-Copperfield.
Unclear of his future, Payne left Texas A&M University, where he had been admitted with a full academic scholarship as a National Merit Scholar, and traveled to Africa to visit his family's clinic, which assists AIDS orphans in Uganda. He returned to Cypress with new direction and began pursuing a nursing degree.
As recipient of the Alvis Endowment, Payne now has a 3.7 GPA and has been admitted into LSC-CyFair's nursing program. He plans to return to Uganda to work at his family's clinic, to participate in the Directly Observed Treatment System (DOTS) and to be involved in the cure of Tuberculosis.
As a member of the board of directors for the Grace International Children's Foundation, he works to ensure healthcare and educational needs of 120 orphans in Uganda are met. Payne and some friends have also started a non-profit organization to help Latin America immigrants learn English and find work. In addition, Payne plans to use his mountain biking experience to eventually publish a bicycle travel study guide of East Africa.
Perales said receiving the Darcy and Robert Mingoia Endowment has been an honor and a blessing for her.
"With the scholarship I was able to let go of one of my two jobs giving me more time to focus on my academics. The burden lifted off my shoulders was huge. I could be sure that I would be able to have the funds necessary to register for classes," said Perales, a member of LSC-CyFair's Phi Theta Kappa Honor Society who plans to transfer to Texas A&M University. "It is an amazing feeling to know that there are remarkable individuals willing to selflessly help me."
Intending to excel in the petroleum engineering field, a promise she made her mother who passed away two years ago, Perales also gives selflessly of her time. She volunteers at Bane Elementary on weekends to care for children whose parents are taking English reading and writing classes, just like her mother did. Perales will continue her community service efforts in honor of her mother's memory.
Recipient of the Charlotte and David Lampe Endowment, Schroeder has maintained a 4.0 GPA while at LSC-CyFair and plans to transfer to the University of Houston-Victoria. His goal is to become a junior high school history teacher.
Schroeder is very involved in Westland Baptist Church and volunteering in his community. He's participated in summer mission trips, hosted vacation bible study for children in the underprivileged areas of Mercedes, Texas, led worship at the Star of Hope men's shelter with his youth group, helped at an area soup kitchen and in repairing homes for those in need.
A self-taught acoustic guitar, bass and piano player, Schroeder was part of the String Quartet "A-440 Authority" providing the background music for the Scholar/Donor Program. He received a standing ovation for his solo song and speech.
More than $166,500 in scholarships were awarded to LSC-CyFair students in this 2012-2013 academic year thanks to the generosity of community business and family donors, said Baril. When a scholarship is fully funded at $15,000, it provides a $1,000 annual scholarship for students.
For information on establishing such a scholarship or other special scholarships, contact Lone Star College Foundation Executive Director Darcy Mingoia at Darcy.A.Mingoia@LoneStar.edu or 832.813.6636.
Scholarship applications for spring 2014 are due October 1. For information, contact Baril at 281.290.3509 or go to LoneStar.edu/scholarships-cyfair.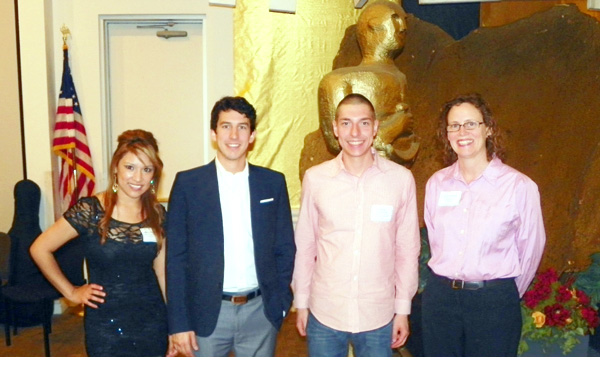 From left are Lone Star College-CyFair scholarship recipients and guest student speakers Rebeca Perales, Darcy and Robert Mingoia Endowment; Andrew Payne, Alvis Endowment; Thomas Schroeder, Charlotte and David G. Lampe Endowment and Dana Ashrawi, St. Luke's Episcopal Health System Scholarship.