Lone Star College-CyFair's Big Event was a big success with 317 students making a difference throughout the community with a variety of service projects.
The Big Event is an annual opportunity for college students to give back to the community and thank local residents for their support throughout the year. Originated at Texas A&M University in 1982, it is now one of the largest student-led service projects in the nation.
LSC-CyFair students Chris Garcia and Carinna de Leon Diaz worked this past year to coordinate and recruit students in campus clubs and organizations to participate in six community projects for LSC-CyFair's Big Event held April 20.
This year's community service efforts included:
Cy-Hope Apartment: assisting with an apartment clean up and repainting project
Cy-Hope Headquarter House: setting up basketball goals and a soccer field for children, and cleaning and reorganization as directed at the headquarter house;
Telge Park: cleaning trails and picking up trash
The Bridge/The Lake: assisting with lawn care for facility and setting up soccer field
LSC-CyFair: picking up trash and planting trees/flowers around campus
West Houston Mobile Home Community: cleaning up trash and debris
Also helping coordinate these projects were Student Life staff Ovi Galvan, Tashemia Jones and Rachel Valle.
"This was the best student-led initiatives I've ever been a part of," said Daniel Villanueva, LSC-CyFair's Program Manager for Student Life "It's truly amazing to see our students leading the project, locating community service opportunities and rallying fellow students to meet up on a Saturday to provide community service."
For information on Student Life at LSC-CyFair, go to LoneStar.edu/student-activities-cyfair.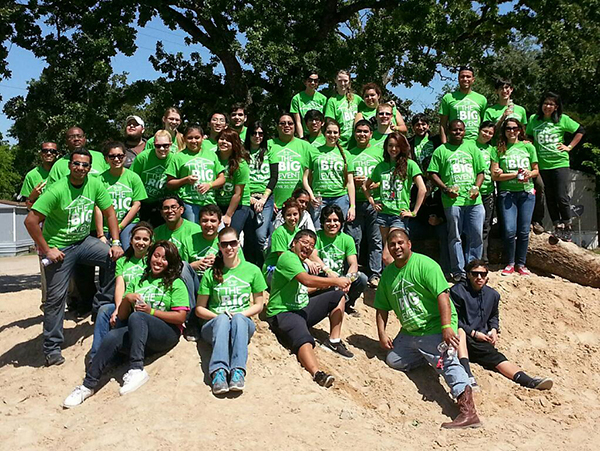 Lone Star College-CyFair students cleaned up trash and debris from 240 mobile home properties, playing field, mailboxes and around the retention pond at West Houston Mobile Home Community as part of April's Big Event