Lone Star College-Montgomery's biotechnology students are 'diving in' to their research after another generous donation has enabled them to build an open pond on campus. This pond will allow students to grow large amounts of algae that will be used to research novel agricultural techniques for Aperion, a property development company based in Arizona.
Aperion and LSC-Montgomery's Biotechnology Institute teamed up in early 2012 to seek biological processes for water treatment and waste remediation for Rio West, a developing community outside of Albuquerque, N.M., that hopes to be the first-ever environmentally, economically, and socially sustainable master-planned community in the U.S. LSC-Montgomery students have been working to develop new techniques for desalinization of the community's 65 million acre-feet of water in an aquifer beneath the site.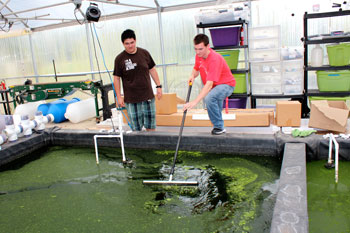 Erik Patton, a recent graduate of LSC-Montgomery, and Josh Bond, a current student in the college's biotechnology program, work on the recently-donated open pond. This new addition to campus will allow students to grow large amounts of algae for water remediation and agricultural research.
"This type of pond is a cost effective way to grow large amounts of algae, expanding our water remediation efforts even further," said Danny Kainer, director of the college's Biotechnology Institute. "The four different cells (in the pond) will allow side-by-side comparisons of different experimental conditions and provide even more data allow us to increase production from the lab scale to the pilot scale."
Aperion's community developer, David Maniatis, recently donated $27,000 to LSC-Montgomery for this pond project. He also made it possible for Matthew Huber, founder and biological oceanographer of Green Reactions, LLC, a sustainable research and development company, to travel to LSC-Montgomery to oversee the pond's construction and installation.
"If these students continue to make good choices and use some of these resources, they'll be the next drivers of this industry," said Huber.
Aperion generously donated $82,000 to LSC-Montgomery's Biotechnology Institute in 2012, which allowed for a revamp of the college's existing greenhouse; made a scanning electron microscope donated by Rice University more usable; and provided a flow cytometer and an automated cell counter, analytical instruments in the industry that aid students in monitoring algal growth patterns.
According to Kainer, the students have maintained their biological remediation research, already characterizing how different types of algae react to the brackish aquifer water. Their next objective is to optimize culture conditions that will enable the aquifer water to be used as a water source to promote large-scale algal growth, aquaponics, and aquaculture.
"Algae is a link in this chain," said Kainer. "It's a part of a process that can ultimately address part of some of the world's most fundamental challenges. Our college and these students are doing our part to help."
For more information on LSC-Montgomery's Biotechnology Institute, visit www.LoneStar.edu/biotechnology-dept-montgomery.
LSC-Montgomery is located at 3200 College Park Drive, one-half mile west of Interstate 45, between Conroe and The Woodlands. For more information about the college, call 936.273.7000, or visit www.LoneStar.edu/montgomery.
Lone Star College System has been opening doors to a better community for 40 years. Founded in 1973, LSCS remains steadfast in its commitment to student success and credential completion. Today, with 78,000 students in credit classes, and a total enrollment of more than 90,000, Lone Star College System is the largest institution of higher education in the Houston area and the fastest-growing community college system in the nation. Dr. Richard Carpenter is the chancellor of LSCS, which consists of six colleges including LSC-CyFair, LSC-Kingwood, LSC-Montgomery, LSC-North Harris, LSC-Tomball and LSC-University Park, five centers, LSC-University Center at Montgomery, LSC-University Center at University Park, Lone Star Corporate College, and LSC-Online. To learn more visit LoneStar.edu.