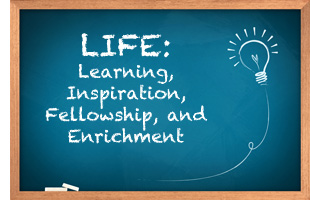 Mark your calendar to learn about sushi, the best and worst of presidential campaigns, a tutorial on Medicare and power of positivity in upcoming August workshops.
Lone Star College-CyFair's Learning, Inspiration, Fellowship, and Enrichment (L.I.F.E.) programs are free and held Wednesdays from 10 a.m. to 11 a.m. in the library (Room 131 unless otherwise noted) at 9191 Barker Cypress.
August 7 – Seriously Sushi
Open your minds and taste buds to the ancient practice of creating beautiful little bites of the fruits of the sea and the rice from the mountain. Sushi chef, Johnny Kim, from Simply Wonderful Sushi (in our Kroger on Barker Cypress) brings his expertise to us. Meet in HSC1 Room 105.


August 14 – Dirty Tricks, Mud Slinging and October Surprises
Not one to whitewash U. S. history, Professor Alex Smith unveils the best of the worst of America's presidential campaigns.


August 21 – What Do You Really Know about Medicare?
Columnist, Medicare specialist and radio talk show host, Toni King, gives a no-nonsense tutorial on Medicare. What you don't know will hurt you. Toni is the author of the book The Medicare Survival Guide. See http://www.tonisays.com/ for more information.


August 28 – Are Happy People Just Naïve?
If someone is happy, are they just not very perceptive about life? Au contraire! Learn practical ways to reprogram your brain for happiness and positivity. Claire Gunnels is inspired by Shawn Achor's book The Happiness Advantage.
Call the library at 281.290.3214 for L.I.F.E. program information or go online to LoneStar.edu.