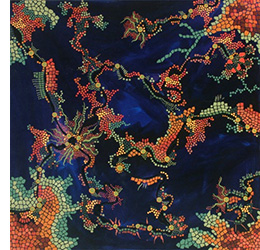 The talent and passion of Marguerite Baldwin featured in her painting exhibition "The Origin of the Series: An Evolutionary Tale" will be on display in Lone Star College-CyFair's Bosque Gallery this summer Aug. 6 – Sept. 19.
Baldwin, who is currently exhibiting at different venues in Houston and Katy, earned her Bachelor of Fine Arts degree in photography from Sam Houston State University in 2009.
"I am what is called a 'non-traditional' graduate, which simply means that I had a career, raised a family and began college after my children were done with school and beginning their families," she said. "Painting and drawing became a passion as I got my degree in photography."
The first painting in this upcoming exhibition is a colorful version of a black and white image that was the genesis for her series, she explains. The butterfly painting was the first recognizable shift in emphasis or a new branch of the series.
Developing her personal style "has been an adventure just moving through the series and watching it branch out," she said.
Meet this local artist and hear what inspired her work at the 1:30 p.m. Aug. 7 opening reception or the 4:30 p.m. Sept. 19 closing reception.
The Bosque Gallery is located in the Center for the Arts building on the Barker Cypress campus at 9191 Barker Cypress. Gallery hours are 10 a.m. to 1 p.m. Monday through Wednesday.
For gallery information, go to LoneStar.edu/bosquegallery or call 281.290.5273.