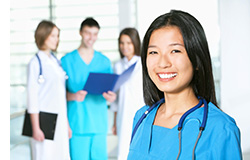 For those interested in exploring a healthcare career, attend one of the fall information sessions, including three set at the new Lone Star College-Cypress Center this fall.
These information sessions will cover all LSC-CyFair's healthcare programs including Associate Degree Nursing, Vocational Nursing, Fire Science, Emergency Medical Services, Diagnostic Medical Sonography/Echocardiography, Medical Radiology Technology and Medical Assisting programs.
Three Thursday sessions will be available at the new full-service center located at 19710 Clay Road Clay Road at Fry Road Sept. 12, Oct. 10 and Nov. 14 from 1:30 p.m. – 3 p.m. in room 106. Additional information sessions, including separate information sessions for the ADN and VN programs, are available at LSC-CyFair, located at 9191 Barker Cypress.
For details on information sessions and the college's Nursing programs, go to LoneStar.edu/nursing-dept-cyfair, LoneStar.edu/medical-radiology-dept-cyfair, LoneStar.edu/diagnostic-medical-sonography-dept-cyfair and LoneStar.edu/medical-assist-dept-cyfair; for Fire Science programs, go to LoneStar.edu/fire-science-dept-cyfair and for EMS programs got to LoneStar.edu/ems-dept-cyfair.