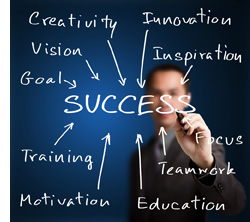 To maximize the success of your business, invest an hour one Wednesday a week in free Business Success Seminars at Lone Star College-CyFair. This series, providing great ideas and great connections for great businesses, will be held from Sept. 18 – Oct. 16. No sign up is required and there will be door prizes. The free weekly Business Success Seminars will be held Wednesdays from 8 a.m. to 9:15 a.m. in the library, room 131 (unless otherwise noted) on the Barker Cypress campus at 9191 Barker Cypress.
Wednesday, Sept. 18: How to Do Business with the Port of Houston Authority – Grow your business through the Small Business Development Program at the Port of Houston Authority (PHA). Learn about opportunities that are available in contracting and procurement at the Port, what certifications are recognized by the PHA, and how to apply for the Small Business Development Program. Pedro Garcia, Manager of the Small Business Program for the Community Outreach Department, gives an overview of how to do business with the Port of Houston, the busiest seaport in the U.S. for ship traffic.


Wednesday, Sept. 25: The New Web Presence – Hear a succinct and frank presentation with Siva Yenneti, President, ITVibes, on what every business needs on the web and social media. Siva will talk about the best practices of a web site and how it complements the presence that a company has on social media including Facebook, Twitter, and more.


Wednesday, Oct. 2: The Affordable Care Act, You, and Your Business – How will the Affordable Care Act affect you and your business? Are you prepared? Learn details with Michael Starzyk, Starzyk & Associates, P.C., about the new and ever-changing health care law so you and your business are prepared for its implementation.


Wednesday, Oct. 9: Mattress Firm's Secret Advantage – Corey Ludens, Vice President of Learning and Development at Mattress Firm, reveals a success strategy that can work for everyone using the science of positive psychology. This hands-on workshop uses the ground-breaking techniques of Shawn Achor and his book, The Happiness Advantage.


Wednesday, Oct. 16: Partnering with the Community for Business Success – Learn with Mark Carruba, Marketing Director, how Northwest Dodge increased awareness and sales through effectively working within the community. Strategies to build your business through community volunteerism will be discussed.
For information on the spring Business Success Seminar series, which the Small Business Development Center and the LSC-CyFair Branch Library are sponsoring, go to LoneStar.edu/library/business-seminars or call 281.290.3214 or 832.482.1057.