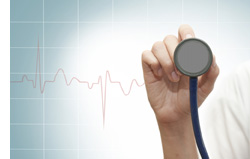 Lone Star College-CyFair alumni Sara Garza's career as a medical assistant began with a desire to help people for a living.
"There are very few things in life that bring more satisfaction than helping people. It gives you a sense of reason and purpose," said Garza.
Hired off her externship after graduating in 2008 from LSC-CyFair's Medical Assisting Program, Garza worked her way from a part-time position to the billing office. She is now the Business Office Manager at Excel Urgent Care's Cypress location and Site Coordinator at the Katy location.
"In the Medical Assisting Program, you are taught both aspects of the medical office, front and back. You learn to give injections and draw blood, but you also learn how to verify insurances, calculate deductibles and do payroll," she said. "I enjoy working both, but I have more interest in the front. I love teaching patients about their insurance plans and what their benefits are. A lot of people don't understand their insurance and how it works."
Garza said she wanted the quality of her education to be "nothing less than exceptional" and she found that in LSC-CyFair's Medical Assisting Program. Reputation, cost and small class size which allows for more one-on-one time with the instructor, were additional reasons for Garza choosing to enroll at LSC-CyFair.
"I think that enrolling in the Medical Assistant Program was one of the best decisions I've made," she said. "It opened up new doors and opportunities for me that I never would've had without it."
Medical assisting is a versatile health care profession that prepares an individual to perform various clinical and administrative functions in an outpatient health care facility. These functions, performed under the direction of a licensed healthcare provider, are completed while examining and treating patients.
A medical assistant's tasks include preparing patients for examinations, scheduling appointments, maintaining medical records; interviewing patients, measuring vital signs, administering injections, drawing blood, taking electrocardiograms and completing insurance forms.
LSC-CyFair's Medical Assisting Program, a one-year program with an average cost of $4,500, prepares students to be multi-skilled allied health professionals specifically trained to work in ambulatory settings, such as physician offices, clinics and group practices, as well as to perform administrative and clinical procedures and laboratory skills.
Under the leadership of Director Gina Scott, LSC-CyFair's Medical Assisting Program is an accredited program in which 92% of the students are hired off their externships like Garza at area facilities such as Kelsey Seybold, HSE Medical Associates and Fairfield Family Physicians, just to name a few.
In addition, the 2011 graduating class made LSC history when they had a 100% cohort retention rate and 93% credentialing pass rate on their first attempt of the Certified Medical Assistant (CMA) American Association of Medical Assistants (AAMA) credentialing examination (when the national average pass rate for first time takers was 67%.)
For information on starting a medical assisting career now at LSC-CyFair,call 281.290.5274 or 281.290.3275, email Gina.R.Scott@LoneStar.edu or go to LoneStar.edu/medical-assist-dept-cyfair.