The Lone Star College-CyFair's 2012-13 Student Research Award winners Jordan Davis, Candelario "Kane" Leal and Karla Segura not only earned recognition and a grade for their research projects, but they also received $500, $300 and $100 respectively.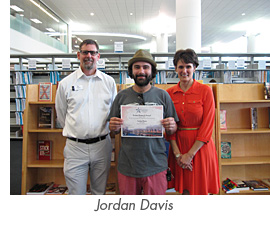 The Student Research Award recognizes annually the best student research projects that find, evaluate, select and communicate information from library resources effectively. Faculty members nominate the student research projects and the volunteer organization, Friends of the Library at LSC-CyFair, generously fund the research award.
"Our mission is to promote interest in the library and support the library in its service to LSC-CyFair students and the community," said Joan Everson, president of Friends of the Library at LSC-CyFair. "The annual research project award is a win-win as it both promotes the use of library resources and rewards students for their efforts."
Davis, who plans to double major in philosophy and possibly mathematics, said he was thrilled to learn about such academic competitions and honored to have been nominated to participate this year.
Davis won first place with his paper "Avarice: A Case Study on the Abomination of For-Profit Prisons" for Professor Heidi Jo Green's GOVT 2304 class project.
"Most of my research took place online because I relied heavily on case law and current events for this particular paper," he said. "I don't presently own a personal computer so the library was indispensable in my research and I often spent entire days on their computers. For other papers, the librarians have always been quite helpful."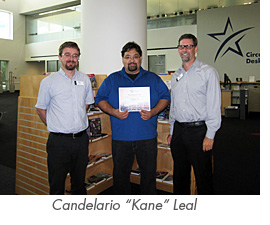 Leal said he used the library's databases to start his research on his second-place project "Genius, Madness and Shamanism and the Upper Paleolithic Revolution" for Professor Matt Backer's ARTS 1303 class.
"Once I realized I would need more exhaustive research than the articles online, I used the online library catalog search to find the books I needed and requested that they be pulled," he said. "This made my trip to the library extremely efficient."
Having become deeply intrigued with his topic and finding so much information he'd need to arrange in a concise form led to concerns of doing the topic justice in the pages and the time allotted, he said; however, the challenge was exciting and he learned a great deal from the experience.
"This award tells me that I at least was able to explore it sufficiently to engage my professor who nominated me and the library staff who chose my paper for second place," said Leal, who plans to pursue a chemistry degree and possibly teach. "It is quite gratifying and has reinforced my confidence that college was the right choice at this time in my life."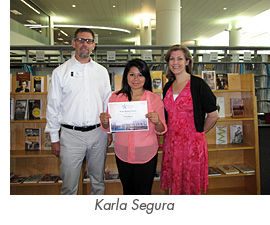 Being awarded third place for her ENGL 1302 class project titled "Gloria Anzaldua and the Bi-cultural Feminist Americana," is appreciated as was Professor Michelle Brown's nomination to participate, said Segura.
"Everyone knows that as a college student you always have a lot of work on your plate. So it's just nice to get recognized once in a while for all that hard work," said Segura, who has been accepted into LSC-CyFair's Medical Radiologic Technology Program. "I guess I knew I had done an OK job when my teacher asked me to read my entire research paper in front of my English class. I'll admit this wasn't so easy especially since I'd written a research paper that could so easily be criticized, but it also included insight into my personal life as a woman, a student and a chicana."
While she checked out a few library books to help develop a thesis for her paper, Segura said the main library resource she used was the online research databases.
"I found this to be the most helpful because 'Academic Search Complete' had numerous articles that helped me develop my work and solidify the ideas that I wanted to include in my research paper," she said.
For information and deadlines on the Student Research Award, go to LoneStar.edu/library/award. For information on the library's resources, databases and more, go to LoneStar.edu/library.