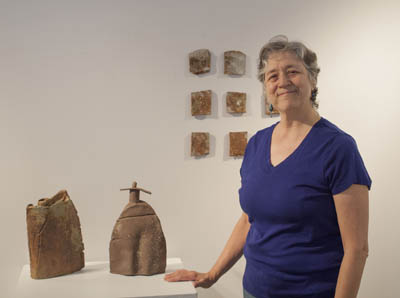 From September 16 through October 18, Lone Star College-Tomball's art gallery will be featuring the ceramic work of Suzanne Shield-Polk, LSC-CyFair ceramics professor. The exhibit is free and open to the public Monday through Friday from 9:30 a.m. to 4:30 p.m.
An artist in several formats (clay, hot wax painting, mixed media and electronic media), Shield-Polk's artistic focus is ceramics; her themes deal with social, environmental and metaphysical concerns that are shaped by a life-long interest in non-Western art, primitive art, surrealism, Dadaism, outsider art and Eastern philosophy and geology. Her work has been shown in solo and group exhibitions throughout Texas and the nation.
Shield-Polk grew up in Central Texas, learning ceramics at Southwest Texas State University from renowned potter, sculptor and artist Jacques Bakke. After a brief stint as a production potter and the completion of her Bachelor of Fine Arts degree at University of Texas, Austin, she relocated to California, where she pursued a career in set decorating and art direction for the motion picture industry. Leaving film to further her ceramics education, teach art and focus on her work as a visual artist, Shield-Polk received her Master of Fine Arts degree in ceramics, sculpture and video from California State University, Northridge before returning to Texas.
The LSC-Tomball art gallery is next to the Beckendorf Conference Center, located at 30555 Tomball Parkway (off State Highway 249 and Zion Road). For more information, contact Steffani Frideres at 281.401.1808 or Steffani.a.frideres@lonestar.edu.
At right: Ceramicist and LSC-CyFair Ceramics Professor Suzanne Shield-Polk will exhibit her work at LSC-Tomball September 16-October 18.