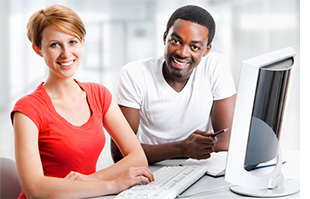 Lone Star College-CyFair's Academic Success Center (ASC) staff and volunteers are helping thousands of students succeed in their classes all semester long with a variety of resources and programs.
The ASC, located on the second floor of the library on the Barker Cypress campus, saw a 60.5% increase in student visitors at 4, 375 to 6,948 from Fall 2011 to Fall 2012 , said Dr. Rodrick Moore, ASC director.
"We have seen that students who take advantage of the ASC resources show higher success rates of completing their courses than students who don't visit the center. For example, in Math 306, 308, 310, 1314 and 1316, we saw a 10%-15% higher success rate," he said. "As we continue to spread the word about the ASC, including with classroom visits, we expect to see additional increases in use and success rates."
Tutoring is available to those who need a little extra help in subjects such as accounting, American Sign Language (ASL), AutoCAD, biology, business, chemistry, developmental math, economics, English, English for Speakers of Other Languages (ESOL), history, math, physics, psychology, reading and writing. The number of students receiving tutoring help increased 44.6% from 1,771 students in Fall 2011 to 2,534 in Fall 2012.
Student Success Seminars are offered each semester on ­"Note Taking and Study Skills", "­Time and Stress Management" and "Test Anxiety." Attendees in the seminars have increased 5% from Fall 2011 to Fall 2012.
Reservations in the language labs have increased 22% from Fall 2011 to Fall 2012.The number of students making independent visits to language labs increased 22.0% from 359 in Fall 2011 to 438 in Fall 2012.
The ASC offers workshops, test-based reviews and practice material to help with placement testing, which determines a student's current level of skills and knowledge in reading, writing and math.
"ASC users also say it's a quiet place to do homework and reviews and a great place to get help right away as needed," said Moore.
For information on additional resources and center hours, go to LoneStar.edu/learning-cyfair or call 281.290.3279.