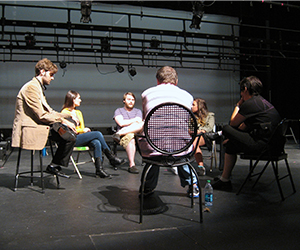 To help actors get into their role, LSC-Montgomery drama professor and play director Tim Campbell leads a pre-talk before rehearsal. Campbell encourages discussion and creates situations where actors question their judgment and decisions, both personally and as their character.
Lone Star College-Montgomery's drama department presents its first play of the season—a world premier of Place of the Skull, written by LSC-Montgomery alum Christopher Young, on stage Thursday through Saturday, October 10-12, at 7 p.m., and October 12, at 3 p.m. A special preview performance with discounted tickets and a free reception is set for Wednesday, October 9, at 4:30 p.m.
Place of the Skull follows the final days of a death row prison inmate, as he shares his journey through accepting mortality, recognizing morality, and the concept of human forgiveness and communication. Though he has committed heinous crimes prior to the story, the inmate casually interacts with others as he faces execution, blurring the lines of how one is judged by the actions of their past versus how they present themselves in the present.
Young, who recently graduated from Texas State University-San Marcos with a bachelor of fine arts degree in theatre, attended LSC-Montgomery from 2008-11. He was very active in the drama department while at LSC-Montgomery, participating in a variety of productions.
"Particularly in my own theatrical endeavors, I personally feel as though I wouldn't be where I am today with the level of confidence I've achieved in focusing on my art as my means to make a living if it wasn't for my time at LSC-Montgomery," said Young. "If anything, LSC-Montgomery helped solidify my decision in pursuing a life in theatre. It gave me practicalities in the start of my education beyond high school, along with a sturdy foundation to build the necessary certitude to pursue this art and make it my life."
According to Tim Campbell, director and drama professor at LSC-Montgomery, this production has given students the opportunity to explore how a play develops through stages of rewrites and refinement
"The students participated in several readings where the playwright and dramaturg shaped and reshaped the characters and the manner in which the story is told," said Campbell. "It has been an invaluable journey for them as young theatre artists."
Audience members are asked to come with an open mind, attentiveness, and empathy.
"It's meant to challenge one's normal perception of a person deemed evil and possibly accept them as any other human," said Young. "When we see criminals of the worst kind, we find it easier to demonize them and deem them as something inhuman and/or grotesque, but I think this is largely because we don't have to see how 'normal' they can actually be (or at least seem) since we don't observe them in a casual setting."
Young returned this past summer to act in LSC-Montgomery's production of Avenue Q. He hopes to pursue a master's degree in dramaturgy and will focus on making a career in stage management around the Austin/San Antonio area where he currently resides. When asked where he hopes to see Place of the Skull go, Young keeps true to his art.
"It is my utmost desire to see Place of the Skull find success on the stage, but I've always regarded myself as a writer who writes for the passion of the art itself, not necessarily to garner profit," he said. "Though, should I find myself faced with the chance to be published, it would be a venture I would most certainly accept."
Tickets for the show are $10 for general admission; $7 for seniors; or $5 for students, faculty, and staff. Tickets for the preview performance on October 9 are $5 for the general public, and free for students, staff, and faculty with a valid identification card. All performances take place in the Mainstage Theatre, located in the Performing Arts Center (Building D).
For information about tickets or the show, contact Fong Chau, program coordinator for theatre/fine arts at LSC-Montgomery, at (936) 273-7021 or
Fong.T.Chau@LoneStar.edu
. Tickets can also be purchased online at
www.LoneStar.edu/Theatre-Montgomery
.
LSC-Montgomery is located at 3200 College Park Drive, one-half mile west of Interstate 45, between Conroe and The Woodlands. For more information about the college, call 936.273.7000, or visit
www.LoneStar.edu/montgomery
.
Lone Star College System has been opening doors to a better community for 40 years. Founded in 1973, LSCS remains steadfast in its commitment to student success and credential completion. Today, with 78,000 students in credit classes, and a total enrollment of more than 90,000, Lone Star College System is the largest institution of higher education in the Houston area and the fastest-growing community college system in the nation. Dr. Richard Carpenter is the chancellor of LSCS, which consists of six colleges including LSC-CyFair, LSC-Kingwood, LSC-Montgomery, LSC-North Harris, LSC-Tomball and LSC-University Park, five centers, LSC-University Center at Montgomery, LSC-University Center at University Park, Lone Star Corporate College, and LSC-Online. To learn more visit
LoneStar.edu
.