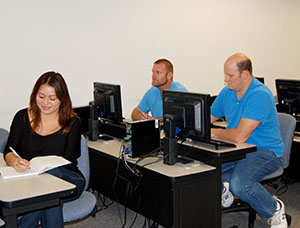 AutoCAD students, Rosa Saucedo, Ryan Vallee and Garth Faries, work on a class assignment.
Lone Star College-Kingwood's Continuing Education (CE) Department offers courses in a variety of levels - from novice to expert. These courses can prepare students for further study, for immediate employment in computer careers, or for personal enrichment.
"In today's knowledge-based economy, continuous learning is not an option, but a necessity," said Robin Garrett, dean of Continuing Education at LSC-Kingwood. "CE responds to community needs by opening its doors to all who are motivated to learn and enrich their lives."
LSC-Kingwood's technology courses satisfy both the curious and the professional. The non-credit training classes vary from introductory concepts to highly technical, industry recognized certifications. Examples of the technology professional development courses include the AutoCAD Series, which has proven very popular among the drafting professionals. The courses are highly sought after and reasonably priced. A+ Certification training prepares individuals for a career in the information technology industry. The online classes offer a wide-range of non-credit computer classes.
"LSC-Kingwood provides opportunities to change lives, improve skills, and develop talents leading to better jobs and a stronger community. All classes are offered in a variety of formats," Garrett said.
Lone Star College System (LSCS) has a variety of options for lifelong learners. Students who want to test drive credit classes are considered non-degree or continuing education students. Application or transcripts are not required to take individual courses through continuing education and no grade or credit is received. They only need to meet the pre-requisites of the course. Upon completion, a satisfactory or unsatisfactory grade is given and credits will only count toward a degree program if they are admitted to one in the future. However, to ensure these credits fulfill a prospective program's requirements, consult with that program ahead of time.
One of the benefits to students is that a program/course can be attempted without penalty. Try a course through CE like interior design or criminal justice. If students don't like it, it won't affect their GPA or number of credit hours. If at a later date, students decide that it will fit into their degree plan – they are able to obtain the credit (no grade) by completing a form and submitting it to the college's advising department.
CE offers over hundreds of technology courses and is committed to serving the needs of today's learner, bringing college and community together to provide quality, practical educational services, to help fulfill career and personal aspirations. LSC-Kingwood delivers an array of innovative classes in a variety of formats, from online – learn at your own pace – to semester-long credit linked courses.
For students seeking personal growth, consider courses in Google Sketchup, digital photography, Microsoft Office and Adobe Photoshop to name a few. Join continuing education for fun, or to learn a valuable new skill. To find the individual computer classes offered at LSC-Kingwood, visit website at http://www.lonestar.edu/continuing-ed.htm or call 281-312-1660 or 281-312-1661.
Register now for credit classes online through myLoneStar. Classes are offered days, evenings, or weekends in traditional, Internet, video, TV and independent study formats. For more information on how to register online, visit www.lonestar.edu/registration.
For general information about Lone Star College-Kingwood, call 281.312.1600 or visit http://lonestar.edu/kingwood.htm.
Lone Star College System has been opening doors to a better community for 40 years. Founded in 1973, LSCS remains steadfast in its commitment to student success and credential completion. Today, with 78,000 students in credit classes, and a total enrollment of more than 90,000, Lone Star College System is the largest institution of higher education in the Houston area and the fastest-growing community college system in the nation. Dr. Richard Carpenter is the chancellor of LSCS, which consists of six colleges including LSC-CyFair, LSC-Kingwood, LSC-Montgomery, LSC-North Harris, LSC-Tomball and LSC-University Park, five centers, LSC-University Center at Montgomery, LSC-University Center at University Park, Lone Star Corporate College, and LSC-Online. To learn more visit www.lonestar.edu.
###