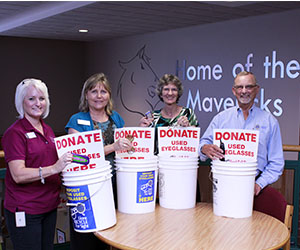 Lone Star College-Montgomery is partnering with Conroe Noon Lions Club to collect used eyeglasses and frames throughout October. The donations will support the "Lions Recycle for Sight" initiative, which recycles or distributes the items to needy people at no charge. Pictured from left to right are Debbie Hernandez, client technologies technician at LSC-Montgomery; Donna Smith Burns, continuing education coordinator at LSC-Montgomery; Jan Bachesais, advisory chairman for LSC-Montgomery's Academy for Lifelong Learning; and Dick Giuffre, eyeglass committee chairman for the Lions Club.
Lone Star College-Montgomery is collecting eyeglasses throughout the month of October to provide sight for others.
Any old or used eyeglasses, lens, frames, and even cell phones can be placed in buckets on campus at LSC-Montgomery, at Lone Star College-Conroe Center, or at Lone Star College-University Center at Montgomery.
The donations support Conroe Noon Lions Club's "Lions Recycle for Sight" initiative and will be recycled or distributed to needy people locally and overseas at no charge.
"Eyeglass and cell phone collection is one of our main ways of giving to the community," said Dick Giuffre, eyeglass committee chairman for the Lions Club. "We're incredibly grateful that the college is helping us continue to give back to the Conroe area. We had a successful drive last year and hope to continue the momentum and community awareness."
The white distribution buckets are located in the following buildings:
Commons Building (Bldg. A) – Office of Student Life desk
Health Science Center (Bldg. B) – near Coffee Grounds
Student Services Center (Bldg. C) – front information desk
Library Building (Bldg. F) – circulation desk
General Academic Center (Bldg. G) – near Coffee Grounds
LSC-Conroe Center – front desk
LSC-University Center at Montgomery – front desk
This is the second year that LSC-Montgomery's Professional Staff Support Association (PSSA) has coordinated this community service project.
"Collaborating with civic groups like the Lions Club helps us all understand the importance of being involved and helping others in need," said Donna Smith Burns, PSSA community service co-chair. "Exposing students to community service is critical in helping them become even better citizens."
For more information, contact Donna Smith Burns at Donna.SmithBurns@LoneStar.edu.
LSC-Montgomery is located at 3200 College Park Drive, one-half mile west of Interstate 45, between Conroe and The Woodlands. For more information about the college, call 936.273.7000, or visit www.LoneStar.edu/montgomery.
With 75,000 students in credit classes, and a total enrollment of more than 90,000, Lone Star College System is the largest institution of higher education in the Houston area, and the fastest-growing community college system in Texas. Dr. Richard Carpenter is the chancellor of LSCS, which consists of six colleges including LSC-CyFair, LSC-Kingwood, LSC-Montgomery, LSC-North Harris, LSC-Tomball, and LSC-University Park, five centers, LSC-University Center at Montgomery, LSC-University Center at University Park, Lone Star Corporate College, and LSC-Online. To learn more visit LoneStar.edu.