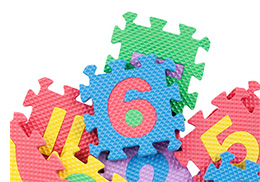 Lone Star College-CyFair's Mathematics Department is hosting two Math Games Days for children ages 3 to 10 to learn and earn prizes with the goal to make mathematics more fun and interesting.
Professor Sharon Stefan and her students have planned some innovative activities to help children of different ages have fun while learning some cool math.
A game designed for kindergarteners to third-graders has them hopping on a number line to figure out addition and subtraction problems, said Stefan, while another game for kindergarteners to sixth-graders requires them to make computations from numbers they obtain from tossing bean bags into a board with holes in it.
For second-graders, there is a game using toys, marbles and hoops to learn about how to solve word problems using Venn Diagrams, she said.
One card game is similar to "War" where a fifth- and sixth-grader pair off to see who can make the quickest conversions between measurements of items at the booth. This game emphasizes the idea of unit/dimensional analysis which is usually taught in most science classes, said Stefan.
Bring the family to enjoy these and other activities in the Math Games Days, which will be held from 10 a.m. to noon, Saturdays Oct. 19 and Oct. 26 at the children's library at 9191 Barker Cypress.
Email Sharon.K.Stefan@LoneStar.edu for event information or go to LoneStar.edu.