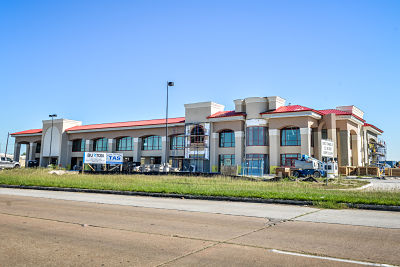 The CHI Lone Star College-North Harris School of Cosmetology is now accepting applications for its operator, esthetician and instructor programs. Applications for all programs are due Nov. 8 and are currently being accepted online at LoneStar.edu/CHIschool.
Each of the three certifications is offered as a full-time program, with the operator and instructor tracks also available as part-time, evening programs.
The full-time operator, esthetician and instructor programs meet Monday through Friday from 7:30 a.m. to 4 p.m., and can be completed in one year or less, depending on the certificate.
The part-time operator program meets Monday through Friday from 5:30 p.m. to 10 p.m. during an 18-month period.
The part-time instructor program, designed for practicing cosmetologists, meets Monday through Thursday, from 5:30 p.m. to 10 p.m. and can be completed in just one year.
Applicants must complete an intense application and interview process prior to being admitted to the program. Prospective students will need to have a high school diploma or GED, and a minimum GPA of 2.5 in their high school or college coursework.
The CHI Lone Star College-North Harris School of Cosmetology launched in the fall of 2012, but construction on its new state-of-the-art home has been ongoing. A grand opening for the new building is slated for December, and incoming students will begin their classes at the new facility in January.
Space is limited, with approximately 35 spots available in each program. Scholarships and financial aid are available to those who qualify. Prospective students can request additional information by calling 281.618.1169, or by visiting LoneStar.edu/CHIschool to begin the application process.
The partnership with Farouk Systems has transformed one of the college's longest-running programs into Houston's premiere destination for cosmetology training. The new venture capitalizes on the world-renowned products and methods of Farouk Systems, and the college expertise in education and training. Graduates will be prepared to work in the most sought-after industry positions, and have an invaluable understanding of both client service and the manufacturing process.
###
About Farouk Systems, Inc.
Farouk Systems, Inc. is a Houston based company that manufactures high quality professional hair care products by CHI™ and BioSilk®. Owned and operated by a team of hairdressers, the world-renowned company includes over 2,000 educators and sells its products in over 100 countries. In 1986, the inception of the company was due to a major breakthrough and it eventually created a revolution in the beauty industry. Farouk Systems accomplishments include inventing ammonia-free color, incorporating silk into hair care products, pioneering CHI™ thermal tool technology and hiring a former NASA Senior Scientist. For more information, log onto http://www.farouk.com.
About Lone Star College
Lone Star College-North Harris is the original college in the Lone Star College System family. Approaching 40 years of service, LSC-North Harris opened its doors in 1973 with cosmetology as one of its initial offerings. The college currently offers more than 120 programs of study, including university-transfer and numerous workforce education courses and programs. Classes are available days, evenings and weekends, in both traditional and online formats. With 75,000 students in credit classes, and a total enrollment of more than 90,000, Lone Star College System is the largest institution of higher education in the Houston area, and the fastest-growing community college system in Texas. For more information visit LoneStar.edu/North Harris.