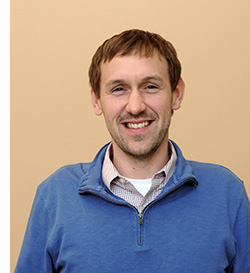 Lone Star College-CyFair's Dr. Blake Ellis, history professor and Phi Theta Kappa co-advisor, is one of 26 nationwide and third in college's history, to have been chosen as a Phi Theta Kappa 2014 Faculty Scholar.
"I'm honored to have been selected as a Faculty Scholar, particularly because it means I'll have input in planning the 2014 Honors Program," said Dr. Ellis. "Phi Theta Kappa students are the best of the best, so I'm looking forward to working with them over the next year."
Scholars were chosen from among nearly 3,000 chapter advisors and selected through a rigorous application process based on knowledge of the 2014-2015 Honors Study Topic, "Frontiers and the Spirit of Exploration" and demonstrated excellence in teaching or administration. Dr. Ellis joins former and adjunct faculty Jeff Edwards and Susan Edwards, respectively, as the third in LSC-CyFair's 10-year history to have earned this prestigious honor.
"Faculty are not chosen unless they are part of a chapter that is active, focused and intellectually engaged," said Dr. Ellis. "This award speaks to the high quality of our Phi Theta Kappa chapter here at LSC-CyFair and demonstrates how well our students have performed."
This year, in addition to having had the largest delegation at this year's Texas Leadership Conference, LSC-CyFair's Beta Lambda Mu chapter is competing in the USA Today and Phi Theta Kappa Sponsored Case Study Challenge with their entry "A Fighting Chance in a Competitive Job Market: Testing, the Common Core, Diversity and the Future of American Education."
This chapter also currently provides daily newspapers to all three LSC-CyFair campuses through the Collegiate Readership Program. Among their fall efforts on campus are a "Beyond the Book" event featuring Dr. Stephen Klineberg, a "Howl-O-Ween Maze" at the annual Halloween celebration, a fund-raising "Holiday Movie Night" to replenish dry erase pen supply for classrooms and a "Homeless Heroes Winter Drive" to support veterans.
Dr. Ellis, who has taught college level for five years, with the past two full-time at LSC-CyFair, said he learns as much from his students as they learn from him.
"As a 20th-century historian, I have a keen understanding of the role public education has played in expanding opportunities to a diverse population. My passion for college teaching grew out of that understanding," said Dr. Ellis. "Every day, I get a chance to see students take the next step in their intellectual journey, enriching our city and our communities in the process."
Along with the other 2014 Faculty Scholars, Dr. Ellis will have the opportunity to lead groups of 15-20 honor students in seminar discussions at the internationally recognized annual Faculty Scholar Conference in Tortola, British Virgin Islands, this spring which will help prepare him to serve as facilitator during Phi Theta Kappa's Honors Institute in St. Louis, Missouri this summer.
For information on LSC-CyFair's Phi Theta Kappa program, contact Dr. Ellis at Blake.A.Ellis@lonestar.edu or at 281.290.3549.