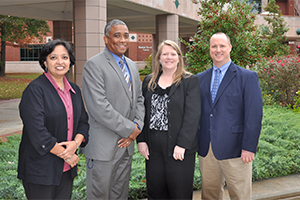 Four instructors at Lone Star College-Montgomery were recently recognized as Faculty Excellence Award recipients. This annual award distinguishes leaders in teaching excellence and innovation. Pictured from left to right are Anitha Iyer, professor of biology; Juan LeBron, faculty counselor; Amy Roberson, faculty counselor; and David Quarles, professor of math.
Lone Star College-Montgomery recently announced the 2013-14 Faculty Excellence Award winners. Anitha Iyer, Amy Roberson, David Quarles, and Juan LeBron were each recognized for their innovative and unwavering commitment to student success.
"These recipients are significant leaders in excellence, a key component of the LSC-Montgomery Maverick way," said Dr. Austin Lane, president of LSC-Montgomery. "We're proud of them and all our first-class professors who work creatively and diligently to support the aspirations of our students."
The League for Innovation formally recognizes the best in higher education with Faculty Excellence Awards chosen from nominations received from member schools.
Anitha Iyer, professor of biology, is an innovator in the classroom who has woven the study of biology with technology, peer teaching, and gaming. Teaching at both ends of the learning spectrum (introductory-level courses to non-science majors and upper-level courses for students in the biotechnology program), Iyer says that finding the right balance for each group of students is very rewarding.
"I am constantly exploring strategies to encourage student involvement in the class and ways to help them become critical thinkers," said Iyer. "Teachers play the dual role of instructor and friend. As an instructor, we guide students to set higher standards for themselves, and as a friend, we stand shoulder-to-shoulder to inspire them to learn something new every day."
Iyer holds dual master's degrees; one in applied botany from Mangalore University in India, and the other in plant pathology from Texas A&M University. She has been with the Lone Star College System since 2003 as an adjunct faculty member and joined LSC-Montgomery full-time in 2009.
"Every time I step inside a classroom, I always learn something new," she said. "My journey has just begun, and along the way, I hope to help students create their road map to the future in the true Maverick way."
Amy Roberson is a faculty counselor in the natural sciences and health professions division who works with fellow counselors, division members, and Student Services to guide students on their academic and career goals.
"I try to provide the information students might need to make the best decisions they can for their future," said Roberson. "I also enjoy working with students who just need a listening ear or to be reminded of a tool or technique that can help them in an area where they might be struggling."
Roberson is a licensed professional counselor and holds a master's degree in counseling. She has worked full-time as a faculty counselor at LSC-Montgomery for more than 11 years.
"I am honored and humbled to be nominated for this award," said Roberson. "It is still so exciting to do what I love and work with students as they take their next steps."
David Quarles, math professor, has spearheaded the relaunch of LSC-Montgomery's engineering courses (Introduction to Engineering launched in spring 2013, and Engineering Mechanics I: Statics is in development).
"Working with students to develop their skills in preparation for engineering applications is very rewarding to me," said Quarles, who holds a master's degree in electrical engineering. "My approach with students is very straight-forward. There's not a lot of leeway when covering math and engineering, but I try to keep them interested with the latest articles of technology or obscure bits of mathematics history. Breaking up the monotony helps the students engage with the course."
Quarles has been teaching at LSC-Montgomery for 10 years. His impact on students has carried well outside LSC-Montgomery, as he recently received the 2013 Teacher Inspiration Award from the University of Texas at Dallas Computer Science Department. This award recognizes those who have inspired one of UT Dallas' current computer science students.
"It's inspiring to work with students as they pursue their dreams," he said. "I enjoy the people I work with and the sense of autonomy I have to do my job. It is very nice to have a level of trust from those in leadership. It motivates me to do my best in class to prepare my students."
Finally, Juan LeBron, a faculty counselor for the theatre, education, art, humanities, math, and music division, connects with LSC-Montgomery's first-time-in-college students to help them create a path for transferring to another university or into the workforce. He has been teaching college success courses since 2007.
"It is very special to have the opportunity to connect with students during their first semester when they are transitioning into the college experience," said LeBron. "Being able to positively influence them as they start their academic careers and then seeing them transfer into other academic institutions and/or enter the workforce is truly special."
Lebron is currently a doctoral student in educational leadership at Sam Houston State University. He holds a master's degree in clinical social work from Florida State University and an education specialist degree in counseling from Florida Atlantic University.
"It is such a blessing for me to do what I do every day as a college counselor," said LeBron. "I'm deeply honored and so thankful to serve our students, faculty, and community members daily—all while being a member of the best team in the field of higher education."
LSC-Montgomery is located at 3200 College Park Drive, one-half mile west of Interstate 45, between Conroe and The Woodlands. For more information about the college, call 936.273.7000, or visit
www.LoneStar.edu/montgomery
.
Lone Star College System has been opening doors to a better community for 40 years. Founded in 1973, LSCS remains steadfast in its commitment to student success and credential completion. Today, with 78,000 students in credit classes, and a total enrollment of more than 90,000, Lone Star College System is the largest institution of higher education in the Houston area and the fastest-growing community college system in the nation. Dr. Richard Carpenter is the chancellor of LSCS, which consists of six colleges including LSC-CyFair, LSC-Kingwood, LSC-Montgomery, LSC-North Harris, LSC-Tomball and LSC-University Park, five centers, LSC-University Center at Montgomery, LSC-University Center at University Park, Lone Star Corporate College, and LSC-Online. To learn more visit
LoneStar.edu
.