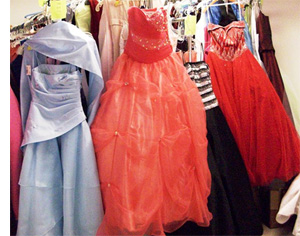 The holiday parties are over, so it's a great time to help replenish Lone Star College-CyFair's Prom Closet with dress and accessory donations.
LSC-CyFair's 10th Annual Prom Closet, a prom dress give-away for teens in need and those on a budget, will be held March 29- April 6.
"This spring we will be serving young women from more than 13 school districts in metro Houston," said Elise Sheppard, LSC-CyFair Teen Librarian and Prom Closet organizer. "Thanks to so many generous donors each year, we are helping hundreds of young women attend their prom, military awards banquet, musical performances and other special occasions with smiles and confidence."
Dress donations should be in perfect condition – clean (not necessarily dry-cleaned) undamaged, without stains, stylish, new and vintage accepted; however, no velvet, mother-of-the-bride or 1980's disco scene.) All sizes 0 to 30 are needed. Don't forget to donate accessories, too, such as shoes, handbags, jewelry, hair pieces, shawls, new and unused make-up and toiletries.
Donations can be dropped off at 9191 Barker Cypress at the LSC-CyFair Branch Library's Circulation Desk during library hours or placed in a plastic bag and left with staff at a convenient Harris County Public Library to put in delivery bins for LSC-CyFair: ATTENTION: ELISE.
For information on donations or the dress drive, contact Sheppard at elise.j.sheppard@lonestar.edu or 281.290.5248. Information is also available at LoneStar.edu/library/Promcloset.