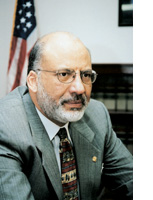 Lone Star College-CyFair's Speaking of Business Series continues Feb. 26 with "Servant Leadership: Conversations with Larry Payne."
Laurence "Larry" Payne, with more than 30 years of experience in public service, education and not-for-profit leadership, received the Knights of St. Peter Claver Justice award - a national honor for outstanding community service. In addition to serving as president and CEO of Houston Habitat for Humanity and as chairman of the Education Foundation of Harris County, Payne has held city, state and congressional government positions with Congressmen Mickey Leland and Chris Bell, Houston Controller George Grenias and former Houston Mayor Kathy Whitmire.
Networking with Payne, author of "The Heart of Houston: Lessons in Servant Leadership", and other attendees will begin at 1 p.m. followed with the 1:15 p.m. talk set in the Center for Academics and Student Affairs (CASA) room 110.
Light refreshments will be served, however space is limited.
The free Speaking of Business Series is designed to enhance the personal and professional development of future business and community leaders.
Sponsoring this series is LSC-CyFair's Business Department. For information, contact Ellen Junious, at 281.290.3511.