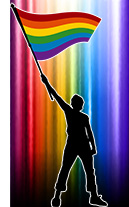 In an effort to raise awareness of issues facing Gay, Lesbian, Bisexual and Transgender students, Lone Star College-CyFair's Gay Pride Week will be held March 24-27.
The week of events begins Monday at 7 p.m. with the LGBT Short Film Festival and discussion open to LSC-CyFair students.
The rest of the week's events are free and open to the community starting with a history presentation at 7 p.m. Tuesday on LGBT Pride and why they still march, as presented by a guest from Pride Houston.
Don't miss the opportunity to participate in the Ally Training Seminar at 2 p.m. Wednesday to learn how to create a "Safe Zone" for LGBT people in the community.
The week concludes with the 6 p.m. "LGBT Equality: What's the Next Step" panel discussion on the future of the LGBT Equality movement after marriage equality.
LSC-CyFair's GLBTA student club provides a supportive environment free of prejudice for Gay, Lesbian, Bisexual and Transgender students and their Allies. For information on this organization or Gay Pride Week events, email CYFairGLBTA@gmail.com or go to LoneStar.edu/cyfair.