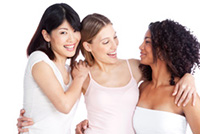 Lone Star College-CyFair's annual Women's Month celebration features films and discussions, workshops and presentations and Reader's Theatre performances set throughout March.
Among events open to the community are a speech workshop "Gender and Public Speaking" March 17; a history presentation "Women on Fire: on M.M. Emerson and M.M. Brooks" March 19 and a political myth busters round table "Gender, Identity and Human Rights" March 24.
The month of events concludes with three Reader's Theatre performances of Susan Glaspell's one-act play "Trifles" March 25-27.
Sponsoring this annual celebration are LSC-CyFair's Windows on the World and Student Life.
For event information, contact Mayia.A.Shulga@LoneStar.edu or Alexander.B.Hogan@LoneStar.edu.
Women's Month Events
| | | | |
| --- | --- | --- | --- |
| Date | Event | Time | Location |
| Mar. 3 | Film Screening and Discussion: Women Who Make America | 11:00 am -1:00 pm | TECH 112/113 |
| Mar. 4 | Writing to Heal: Processing Trauma on the page (Student Workshop) | 3:00 - 4:00 pm | CENT 153 |
| Mar. 5 | Film Screening and Discussion: W.A.R. Women Art Revolution | 11:00 am - 12:30 pm | TECH 112/113 |
| Mar. 17 | Gender and Public Speaking: Speech Workshop | 12:00 pm - 1:20 pm | CENT 151 |
| Mar. 19 | History Presentation "Women on Fire: on M.M. Emerson and M.M. Brooks" | 1:30 pm - 3:30 pm | CASA 110 |
| Mar. 24 | Political Myth Busters Round Table: Gender, Identity, and Human Rights | 11:00 am - 12:30 pm | CENT 151 |
| Mar. 25 | Reader's Theater: Trifles | 6:00 pm - 7:00 pm | CASA 110 |
| Mar. 26 | Reader's Theater: Trifles | 1:00 pm - 2:00 pm | ART 102 |
| Mar. 27 | Reader's Theater: Trifles | 3:00 - 4:00 pm | CASA 110 |