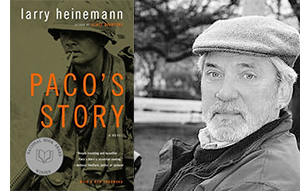 Join Vietnam War Veteran Larry Heinemann, an award-winning author of four books including a Vietnam trilogy, in the April 3 veterans community reading, Q&A and book signing event at Lone Star College-CyFair.
"Mr. Heinemann's writing and teaching engages important issues on a personal, national, and global scale. His writing foregrounds the purposes and consequences of war, the human cost of war, the problem of conscience and participation in war, and the alienation often felt by returning Veterans," said Roberta Short, LSC-CyFair English professor and event coordinator.
Heinemann is a seasoned creative writing instructor, who currently serves as Writer-In-Residence at Texas A&M University, College Station. His Vietnam trilogy includes Close Quarters, a novel that's been called the seminal work to emerge from the war in Vietnam; Paco's Story, which was translated and published in Vietnam in 2010 as the first American-written novel about the war to be published there; and Black Virgin Mountain: A Return to Vietnam, a memoir published in 2005.
Heinemann will read from his work at 7 p.m. in the Main Stage Theatre located in the Center for the Arts building at 9191 Barker Cypress. Following the reading, the audience is welcome to participate in a Q&A and book signing. Books will be available for sale.
In addition to this free community event, Heinemann will start the day with "Legacies of War" - an interdisciplinary panel discussion with LSC-CyFair students and faculty. He will also participate in a veterans' roundtable discussion with veteran students on topics such as war and its impact as well as associated issues such as PTSD, the VA and reentering civilian life.
Co-sponsoring Heinemann's visit are the LSC-CyFair Branch Library and Windows on the World. For event information, contact Short at Roberta.H.Short@LoneStar.edu or 281.290.3929.