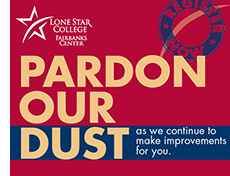 Construction of a 276-space parking garage to help alleviate parking challenges has begun at Lone Star College-Fairbanks Center, located at 14955 Northwest Freeway.
LSC-CyFair's Vice President of College Centers Deana Sheppard said parking issues became significantly worse as a result of construction on U.S. Highway 290, making this project a priority.
"The garage is expected to be complete in early August, in time for fall registration with plenty of parking for students and the community," she said. "In the meantime, we are open as usual, registration is under way and our faculty and staff are here to serve students with the excellent service we've been providing since opening in 2002."
Whether interested in earning an associate degree or transferring to a four-year institution, LSC-Fairbanks Center offers affordable and flexible course options day or night as well as small class sizes for more personal interaction with instructors and classmates.
Registration is under way for Summer I classes, which begin June 2 and Summer II classes, which begin July 10.
Visit with an advisor today or register online at LoneStar.edu/registration.