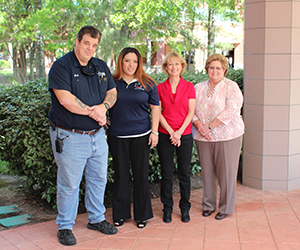 Four key staff members at Lone Star College-Montgomery were recently recognized with the Staff Excellence Award. Pictured from left to right are Jack Richardson, maintenance technician; Maria "Lupe" Flores-Fitz, admission specialist; Mary Kay Holbeck, instructional specialist; and Patty O'Neal, division operations manager.
The staff members at Lone Star College-Montgomery are a key component to ensuring student success. Recently, four individuals—Maria "Lupe" Flores-Fitz, Mary Kay Holbeck, Patty O'Neal, and Jack Richardson—were recognized for their outstanding service with the college's annual Staff Excellence Award.
"Our staff members are instrumental in guiding the students and meeting their needs outside the classroom," said Dr. Austin A. Lane, president of LSC-Montgomery. "Our campus depends on these leaders in excellence, and we're proud of their hard work and dedication."
For Maria "Lupe" Flores-Fitz, that hard work and dedication started as a part-time work-study program five years ago. She has since worked her way up to a full-time admissions specialist, where her main focus is working closely with a group of students from the time they enroll to the time they graduate.
"My goal is to establish a relationship with them and be the familiar face they can count on," said Flores-Fitz. "I feel truly honored to win this award. I work beside such great people that everyday make a difference in students' lives, and it makes my work worthwhile to be a part of that success."
Mary Kay Holbeck, instructional specialist, runs the college's biotechnology lab—a job she has down to a science. She prepares lab exercises, maintains equipment and inventory, assists professors and students, and more, all while maintaining the overall safety of the lab.
"It is very gratifying to know that you had something to do with the students' excellent skills, especially when you hear from internship sites that our students are so well-trained," said Holbeck.
Holbeck was a once a biotechnology student herself. After earning a bachelor's degree and spending 15 years in the horticulture industry, Holbeck earned her associate of applied science degree in biotechnology from LSC-Montgomery. She worked in cancer research at a local company for five years before returning to campus as an employee.
"I love working in a continual learning environment," said Holbeck. "I have wonderful colleagues and am flattered to be recognized and respected by those I spend so much time with."
Patty O'Neal recently celebrated eight years at LSC-Montgomery. As division operations manager for the business and social sciences division, she manages the division's budget and provides administrative support to the division's academic dean, faculty, and department chairs.
"It is fun to be part of such a dynamic, fast-growing campus," said O'Neal. "The people here are always friendly and helpful."
Last year, O'Neal was honored with the college's Shining Star Award and the President's Star Award.
She loves the outdoors and has recently taken up golf again.
For years, Jack Richardson worked with his family in real estate development, as well as for an apartment management company. However, in 2010, when he was looking for a career change, he took an opportunity to join LSC-Montgomery.
He brings his years of experience in repair and restoration to the campus as a maintenance technician. His duties take him all over campus as he works to maintain and preserve the buildings and structures.
"I enjoy working with the staff and students," he said.
Outside of work, Richardson often visits a local retirement company to talk with the residents or sometimes sing for them during a special event. He also enjoys working in the woodshop, going bowling, and just being outside.
LSC-Montgomery is located at 3200 College Park Drive, one-half mile west of Interstate 45, between Conroe and The Woodlands. For more information about the college, call 936.273.7000, or visit www.LoneStar.edu/montgomery.
Lone Star College System has been opening doors to a better community for 40 years. Founded in 1973, LSCS remains steadfast in its commitment to student success and credential completion. Today, with 78,000 students in credit classes, and a total enrollment of more than 90,000, Lone Star College System is the largest institution of higher education in the Houston area and one of the fastest-growing community college systems in the nation. Dr. Richard Carpenter is the chancellor of LSCS, which consists of six colleges including LSC-CyFair, LSC-Kingwood, LSC-Montgomery, LSC-North Harris, LSC-Tomball and LSC-University Park, seven centers, LSC-University Center at Montgomery, LSC-University Center at University Park, Lone Star Corporate College, and LSC-Online. To learn more visit
LoneStar.edu
.