Lone Star College System Honors student Janet Flores won a Dennis Boe Award for her honors project, "Surveying Mueschke Cemetery: A Community Preservation Project Led by Applied Geomatics."
The Great Plains Honors Council (GPHC) sponsors the annual Dennis Boe Award to highlight and recognize outstanding scholarly work by the honors program/college students of its member institutions.
Flores, who attends The Honors College at LSC-North Harris and is president of the LSCS Honors College Student Organization, completed a research project which examined issues affecting cultural landmarks like Mueschke Cemetery, located in northwest Harris County, and confirming the importance of using modern technologies for the purpose of preserving historic cemeteries.
Her report noted Houston's constant expansion among the threats to these cultural landmarks and used this project to learn about the different modern geological surveying equipment available, as well as the history of geomatics.
"Excellent past-present connection and sense of significance," commented Dr. Allen R. Vogt, professor of history and honors scholar judge on the Flores presentation. Dr. E. Steve Sansom, professor of English and honors scholar judge wrote: "Presentation was smooth, professional and educational. Your personal interest in your subject enhanced the overall presentation. Good work!"
This award honors the late Dr. Dennis Boe, former director of honors at East Central University. 
"It is no secret to The Honors College or any of the faculty that Ms. Flores is an achiever and an outstanding student. This will be one more feather in her cap as she leaves Lone Star College to further her academic journey," said Dr. Katharine Caruso, interim executive director of The Honors College at LSCS. "I am sure we will hear of great things as Janet goes on to spend more time doing the hard work necessary to catalog the history of unheralded landmarks."
LSCS honors classes provide a unique intellectual and co-curricular experience. Honors College students may earn honors academic course credit by enrolling in honors sections, as well as by working with a faculty mentor on honors contracts. 
In addition to Flores, other LSCS student presenters at GPHC were:
LSC-CyFair:
Brittany White: Interpretations of Christianity During the Crusades
LSC-Montgomery:
Adriana Moron: The Tissue Bell Mystery
Keri Baker: Civic Engagement: A Healthier You, A Healthier Community
Sean Dougherty: An Internship with the Houston Mayor's Re-election Campaign
Andrea Rivas: The Stylistic Influences on Gustav Moreau and his Innovations 
Silvia Parrado: Abercrombie & Fitch or American Eagle Outfitters? Using Financial Accounting  to Make Smart Investment Decisions
Nicholas Gonzalez: Digital Citizens: Proof that Social Media Creates Social Capital
LSC-North Harris
Monika Jordan: The Mueschke Cemetery: The Impact of Preventative Care on Child and Infant Mortality
Joshua Matthews: Masculine Rhetoric in an Indian-American Protestant Church
Abigail Ferguson: Communication in End-of-Life Care: A Nurse's Perception
Tam Nguyen : The Mathematics of Computed Tomography
LSC-Tomball
Blake Barnett: An Analysis of Lucifer's Devolution in Paradise Lost: From Byronic Hero to Repellent Serpent
Jorge Torres: From Parody to Pun: Comic Technique in A Midsummer Night's Dream
Click here
to learn more about The Honors College at Lone Star College.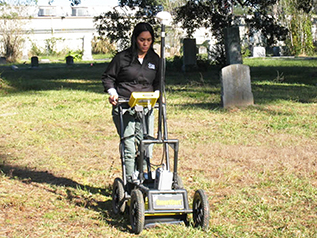 Janet Flores investigates the discrepancy between recorded burials and actual headstones
at the Mueschke Cemetery as part of her Lone Star College System Honors College project.
Lone Star College System has been opening doors to a better community for 40 years. Founded in 1973, LSCS remains steadfast in its commitment to student success and credential completion.  Today, with 78,000 students in credit classes, and a total enrollment of more than 90,000, Lone Star College System is the largest institution of higher education in the Houston area and one of the fastest-growing community college systems in the nation.  Dr. Richard Carpenter is the chancellor of LSCS, which consists of six colleges including LSC-CyFair, LSC-Kingwood, LSC-Montgomery, LSC-North Harris, LSC-Tomball and LSC-University Park, seven centers, LSC-University Center at Montgomery, LSC-University Center at University Park, Lone Star Corporate College, and LSC-Online.
####