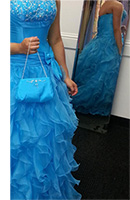 This 2014 prom season the Lone Star College-CyFair Branch Library is celebrating a decade of making special memories for 406 teens in need; however, it's also the time to help replenish the Prom Closet for next year's 11th annual event.
Thanks to the generous dress donations from the Cy-Fair community, the Prom Closet has provided teens with financial need a dress for their prom, military awards banquet, musical performance and other special occasions.
Donated dresses and accessories are stored on professional dress racks that the LSC-CyFair Friends of the Library purchased for the Prom Closet which typically has some 1,200 long and short dresses on hand.
"Many girls drove over 1-1/2 hours each way just to attend one of our spring dress give-away sessions," said Prom Closet organizer LSC-CyFair Teen Librarian Elise Sheppard. "We had 40 homeless girls brought to the give-aways by Houston Independent School District staff, while other girls were brought by parents, guardians, foster parents, friends, ROTC commanders and social workers."
Sheppard said the Prom Closet draws teens from all over metropolitan Houston including from 15 school districts, those in group homes and foster care, those who are homeless, home-schooled and referred through CPS as well as teens with special needs, disabilities and incarcerated parents.
"Most of the girls who visited our Prom Closet have never worn a dress before, so it is life changing for them to see themselves in these beautiful gowns. The dresses give them a lot of confidence," she said. "We truly appreciate the support from community members, so we tell the girls that someone has given them a free gown, and encourage them to give back, too, when they have the opportunity."
To help replenish the Prom Closet, dress donations (and accessories) are accepted all year long. Following are the descriptions of requested donations:
All dress sizes: 00 – 30, long and short (Currently needed are plus-size dresses size 18 and up.)
Shoes, handbags, jewelry, hair pieces, shawls, new and unused make-up and toiletries, etc.LI>
Perfect condition: Clean (but not necessarily dry-cleaned), undamaged, stylish, no velvet!
Donations may be dropped off at the circulation desk in the library on the LSC-CyFair campus at 9191 Barker Cypress.
For information, contact Sheppard at elise.j.sheppard@lonestar.edu or 281.290.5248. Information is also available at LoneStar.edu/library/Promcloset