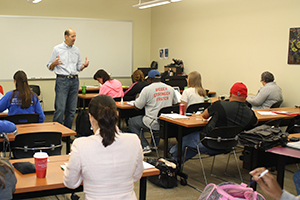 At the head of the classroom, Glen Killian, professor of human services, directs students as they prepare to take their final exam. Most human services classes include a diverse group of students whose commonality is a desire to give of themselves to help and serve other people.
Many people who enjoy helping others have enrolled in a program at Lone Star College-Montgomery that equips them for meaningful careers. Human services, a program with an estimated current enrollment of 200, is offered only at Lone Star College System's Montgomery campus.
"We have a dynamic, diverse, and passionate group of students who come to campus each day ready to learn how they might better help and serve others in need," said Glen Killian, professor and program director of human services. "I am always amazed by how many of them drive from Atascocita, Cypress, or the Greenspoint area at the crack of dawn."
The human services program prepares students for a variety of jobs, including counselors, case workers and managers, advocates, and specialists in prevention and education. Human services offers a general track, as well as a specialized track in substance abuse counseling. State licensure is available for two-year graduates of the substance abuse track.
Students can earn basic certificates, as well as associate degrees; however, many human services students choose to complete four-year degrees. LSC-Montgomery courses transfer to several four-year colleges, including Sam Houston State University and Our Lady of the Lake University, which conveniently offer bachelor's degrees via Lone Star College-University Center at Montgomery.
The Texas Higher Education Coordinating Board has given the human services program at LSC-Montgomery an exemplary rating for the past two years.
"That rating is due to our enrollment growth, the fact that students rarely drop our classes once they are enrolled, and because of our partnerships with local agencies," Killian said. "That's something we're proud of."
Typical human services students, he said, "want to help and give of themselves to help and serve other people." Aside from that commonality, however, students are diverse. They are both young and middle-aged; they represent many races and ethnicities; and their backgrounds all vary. Many have endured difficult life experiences, including military combat; some desire to help others with struggles similar to the ones they have overcome themselves.
"This is a field where there is a place for everybody," Killian said.
Killian is proud of the program's strong relationships with many local agencies and social service programs that provide internships and hands-on experience for students. Before becoming a professor at LSC-Montgomery, he was a program director for a social service agency in Conroe.
"The teachers have all worked in the field, so they brought real life experience to the classroom," said John Layson, a non-traditional student who is now pursuing state licensure as a chemical dependency counselor. "The human services program is just incredible. They took me through every step of the process and really prepared me for getting the licensure. I was able to step into the field relatively easily. It was amazing. It has been a great experience for me."
"We get to know our students, and we develop friendships and relationships with one another," Killian said. "They feel a sense of connection here. Many of them say, 'I didn't know what I wanted to do, but I got in the human services program, and I felt at home here.'"
Some students, he added, find college success for the first time after enrolling in the program.
Human services students participate in a vibrant student organization that encourages volunteerism. The organization exposes students to frequent guest speakers who represent different facets of the field of human services.
Autumn Haley, now a case manager for Montgomery County, began taking classes at LSC-Montgomery at night when her children started school; she finished her degree in 2009. The human services program prepared her well for her career, she said, and provided her with a network of friends in the field.
"I regret one thing…" she said, "…that I waited so long."
For more information, visit
www.LoneStar.edu/human-services-dept
.
LSC-Montgomery is located at 3200 College Park Drive, one-half mile west of Interstate 45, between Conroe and The Woodlands. For more information about the college, call 936.273.7000, or visit
www.LoneStar.edu/montgomery
.
Lone Star College System has been opening doors to a better community for 40 years. Founded in 1973, LSCS remains steadfast in its commitment to student success and credential completion. Today, with 78,000 students in credit classes, and a total enrollment of more than 90,000, Lone Star College System is the largest institution of higher education in the Houston area and one of the fastest-growing community college systems in the nation. Dr. Richard Carpenter is the chancellor of LSCS, which consists of six colleges including LSC-CyFair, LSC-Kingwood, LSC-Montgomery, LSC-North Harris, LSC-Tomball and LSC-University Park, seven centers, LSC-University Center at Montgomery, LSC-University Center at University Park, Lone Star Corporate College, and LSC-Online. To learn more visit
LoneStar.edu
.