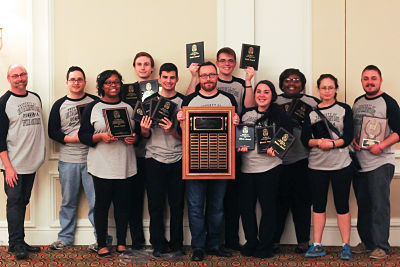 The Lone Star College-North Harris competitive speech and debate team continued their tradition of success by winning the 2014 Silvia Mariner's Perpetual Sweepstakes Award at this year's Phi Rho Pi National Speech Tournament. LSC-North Harris is only the third Texas school to win the award since its inception in 1970.
The Silvia Mariner's Perpetual Sweepstakes Award is an ongoing prize, given each year to the community college team with the highest point total over the history of Phi Rho Pi's annual tournaments.
LSC-North Harris' team, which has a history of achievement at the local, regional and national levels, earned 112.5 points at this year's tournament to secure the honor. Having won, the LSC-North Harris speech team's point total will now reset to zero next year.
For Wade Hescht, current team coach and a former LSC-North Harris student himself, the award has special meaning.
"Winning the Mariner Sweepstakes evokes a double sense of pride for me," said Wade Hescht, director of forensics at LSC-North Harris. "The points accumulated to win this award not only include my years of coaching, but also my years as a student competitor for LSC-North Harris."
Hescht, a professor at LSC-North Harris for nearly 20 years, was also an active member of the speech and debate team while attending the college. Now, along with the rest of the coaching team, professors Jonathan Stansbury, Dave Gaer and Casey Garcia, they have developed one of the nation's best forensic teams.
In addition to Mariner's Award, the team won numerous recognitions throughout the season, including being named the 2014 Phi Rho Pi Regional Champions, the 2014 Texas Community College Forensic Association's State Champions and the 2014 Texas Intercollegiate Forensic Association's State Champions (for two-year and four-year schools).
"Once again we had a very talented group of competitors who represented the college wonderfully," said Hescht. "It's amazing to see how far we have come, and how our reputation has grown."
The 2013-14 LSC-North Harris team members include: Alex Bergeron, Kat Christensen, Jazmine Cornielle, Balencia Crosby, Colin Gill, Jacob Mayfield, David Pham, Alexandria Ross and Tyler Thompson.
"I have learned a lot from both my teammates and my coaches," said Bergeron, the team's captain. "I have no doubt that LSC-North Harris' teams will continue to excel even more in the future."
Despite the college's long history of success in forensic competitions, Bergeron and his teammates were still able to break new ground with their accomplishments this year.
For the first time ever, four students from LSC-North Harris received invitations to the 2014 National Parliamentary Tournament of Excellence (NPTE). NPTE provides an opportunity for the nation's finest parliamentary debate teams, from both two-year and four-year schools, to participate in an annual championship parliamentary debate tournament.
"This team has made such an impact on my life," added Bergeron. "These past two years have been filled with memories that I will never forget."
Lone Star College-North Harris is located at 2700 W.W. Thorne Drive, one-half mile south of FM 1960 East, between Aldine-Westfield and Hardy Roads. For more information about the college, call 281.618.5400 or visit LoneStar.edu/NorthHarris.
Lone Star College System has been opening doors to a better community for 40 years. Founded in 1973, LSCS remains steadfast in its commitment to student success and credential completion. Today, with 78,000 students in credit classes, and a total enrollment of more than 90,000, Lone Star College System is the largest institution of higher education in the Houston area and one of the fastest-growing community college systems in the nation. Dr. Richard Carpenter is the chancellor of LSCS, which consists of six colleges including LSC-CyFair, LSC-Kingwood, LSC-Montgomery, LSC-North Harris, LSC-Tomball and LSC-University Park, seven centers, LSC-University Center at Montgomery, LSC-University Center at University Park, Lone Star Corporate College, and LSC-Online. To learn more visit LoneStar.edu.
###