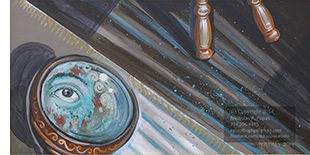 Lone Star College-CyFair's Art Department welcomes artist Nicholas Papas for his painted Drogo's View exhibition on display in the Bosque Gallery June 9 – July 3.
Illustrating the story of St. Drogo, a Flemish saint afflicted by severe deformity who survived in caged isolation through meager rations and plentiful faith, Papas imagines and depicts key moments in this incredible story and presents them as a series of painted episodes. Combining the canonized style of Byzantine Icon painting and a gestural handling of paint, the episodic illustrations are a dynamic juxtaposition presenting a forgotten story to a contemporary audience.
Come to enjoy the exhibition and stay to meet the artist in person at the closing reception 1:30 pm to 3:30 pm Wednesday, June 18.
The Bosque Gallery is located in the Center for the Arts building on the Barker Cypress campus at 9191 Barker Cypress.
For gallery hours and information, go to LoneStar.edu/bosquegallery or call 281.290.5273.