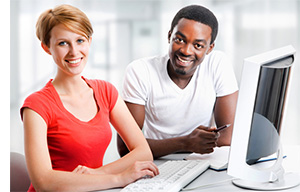 Lone Star College-CyFair's Academic Success Center (ASC) staff and volunteers are helping thousands of students succeed in their classes and in particular, several of the basic core courses.
"When we look at the Success Rates (based on completion of classes) from Fall 2013 to Spring 2014 among ASC Students and Non-ASC Students, statistics show those students taking advantage of our resources were much more successful in the areas of biology, chemistry, English, math and physics," said Dr. Rodrick Moore, ASC director. "Overall, there is a 21% higher success rate for students who visited the ASC."
Following are the approximate higher success rates for ASC students: Biology: 16%, Chemistry: 48%, English: 15%, Math: 9% and Physics: 17%.
Located on the second floor of the library on the Barker Cypress campus, the ASC offers a variety of free resources such as tutoring, language labs, workshops, test-based reviews and practice material to help with placement testing.
For information on additional resources and center hours, go to LoneStar.edu/learning-cyfair or call 281.290.3279.