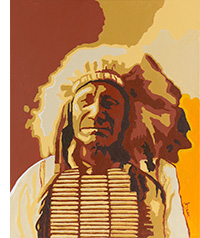 Lone Star College-CyFair's Art Department features Brett Hall's acrylic painting exhibition "A New Look" on display in the Bosque Gallery July 14 – Aug. 14.
Hall is a commercial-artist-turned-activist-painter. In this show, he presents acrylic paintings of historical Native American figures in an attempt to bring attention to issues of identity, history, and the hardships endured during the overtaking of Native land throughout the American West.
Come to enjoy the exhibition and stay to meet the artist in person at a reception from 1:30 p.m. to 3:30 p.m. Wednesday, July 30.
The Bosque Gallery is located in the Center for the Arts building on the Barker Cypress campus at 9191 Barker Cypress.
For gallery hours and information, go to LoneStar.edu/bosquegallery or call 281.290.5273.