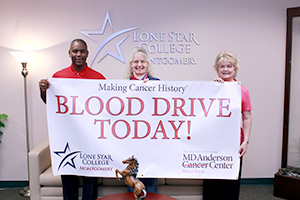 Lone Star College-Montgomery hopes to further boost blood drive participation campus wide during the 2014-2015 school year. Pictured (l. to r.) are Dr. Austin Lane, president of LSC-Montgomery, Kathy Johanson, division operations specialist, and Sheila Davenport, administrative assistant to the president.
Kathy Johanson, division operations specialist at Lone Star
College-Montgomery, and nursing professor, Carol Girocco, have a very lofty goal in mind for campus blood drives in 2014-2015. They intend to create lifelong civic partnerships and make them a maverick culture at the college.
In 2013-2014, LSC-Montgomery, in partnership with several area hospitals, was very active in conducting campus wide blood drives, involving students, faculty, staff and community. Last year the campus conducted 10 blood drives, saw 478 donors, and provided 536 donated products.
Johanson, blood drive coordinator, hopes to further increase student and campus involvement this year, through partnerships with Gulf Coast Blood Center, Methodist Hospital, M.D. Anderson Hospital, and St. Luke's Hospital.
"I have it on a cycle now, where we will have nine blood drives a year," Johanson said. "They're evenly spaced so that there are four in the fall semester, four in the spring semester, and one in the summer."
Girocco, along with other members of the LSC-Montgomery staff and student body, has a personal reason to advocate for more participation in blood drives. Girocco's husband was diagnosed with acute promyelocytic leukemia in 2013.
"Facilities often have to cancel procedures because they just don't have enough blood," she said. "I would hate to have a busload of kids hurt and not enough blood to help them. In the end, it comes down to a matter of public safety."
Johanson and Girocco have been working with LSC-Montgomery classes, groups, and faculty sponsors to get students more involved. Some classes require students to do service work and this is a way for them to achieve that service credit. Incentives, such as admittance to the surgical rotunda at St Luke's Hospital to observe open heart surgery, are even being offered to nursing students assisting with blood drives.
"This is something mavericks do," Johanson said. "We stand behind our blood drives; we want to be good civic partners. I want us to do ourselves proud by being active participants."
For blood drive dates, visit the LSC-Montgomery events calendar at http://www.lonestar.edu/montgomery. For more information on LSC-Montgomery blood drives, contact Kathy Johanson at (936) 273-7360 or kathyjo@lonestar.edu.
LSC-Montgomery is located at 3200 College Park Drive, one-half mile west of Interstate 45, between Conroe and The Woodlands. For more information about the college, call (936) 273-7000, or visit www.LoneStar.edu/montgomery.
Lone Star College System has been opening doors to a better community for more than 40 years. Founded in 1973, LSCS remains steadfast in its commitment to student success and credential completion. Today, with 78,000 students in credit classes, and a total enrollment of more than 90,000, Lone Star College System is the largest institution of higher education in the Houston area and one of the fastest-growing community college systems in the nation. Dr. Steve Head is the chancellor of LSCS, which consists of six colleges including LSC-CyFair, LSC-Kingwood, LSC-Montgomery, LSC-North Harris, LSC-Tomball and LSC-University Park, seven centers, LSC-University Center at Montgomery, LSC-University Center at University Park, Lone Star Corporate College, and LSC-Online. To learn more visit LoneStar.edu.