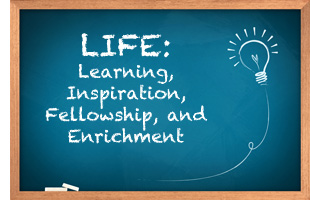 Gain a little insight into World War I, a Negro Hospital, Latino first responders, a Gandhi Collection at the Menil and Indian food this October at Lone Star College-CyFair.
The Learning, Inspiration, Fellowship, and Enrichment (L.I.F.E.) programs are free and held Wednesdays from 10 a.m. to 11 a.m. in the library (Room 131 unless otherwise noted) at 9191 Barker Cypress.
Oct. 1 — Sculpture and Remembrance
The Gulf Coast Reads book "Remember Ben Clayton" by Stephen Harrigan deals with a father who commissions a sculpture of his son who died in World War I. Forensic sculptor, Amanda Danning, explores creativity and sculpture and what makes art memorable.

Oct. 8 — Latino First Responders Panel
Share thrilling and chilling experiences with our Hispanic First Responders Panel. Celebrate Hispanic Heritage Month with two police officers and an INS agent who have lived to write about their inspiring careers. Book signing follows.

Oct. 15 — Turmeric: Good for You Inside and Out
Reference Assistant Usha Dontheraju takes this lovely yellow spice and gives the inside scoop on not only its flavor, but also its super-healthful benefits.
Oct. 22 — Experiments with Truth: Gandhi and Images of Nonviolence
Tobin Becker will be discussing this upcoming Menil Collection show. The 130-work exhibition includes paintings, drawings, and photographs that explore Gandhi and his philosophy of non-violent protest. Let's take a trip to the Menil afterwards.

Oct. 29 — Black Troops in World War I and the Houston Negro Hospital
Joseph Stephen Cullinan, one of the founders of Texaco, built the Houston Negro Hospital, now (which opened in 1927) with his own funds and dedicated it to the memory of his son, John Cullinan, who had been a white officer leading Black troops during the war. Professor Thomas Kelly winningly winds up our Gulf Coast Reads title "Remember Ben Clayton" by Stephen Harrigan.
Check out past programs at lsccyfairlife.blogspot.com. Call the library at 281.290.3214 for L.I.F.E. program information or go online to LoneStar.edu.