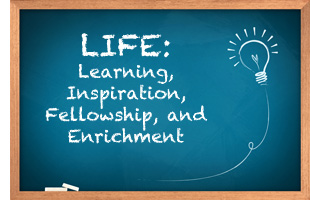 Enjoy a range of topics from a food fight and liars to holiday crafts, animals and the healing power of music featured in the weekly programs this November and December at Lone Star College-CyFair.
The Learning, Inspiration, Fellowship, and Enrichment (L.I.F.E.) programs are free and held Wednesdays from 10 a.m. to 11 a.m. in the library (Room 131 unless otherwise noted) at 9191 Barker Cypress.
Nov. 5 — War between the Soups
We pit Houston against Saigon in this dramatic food fight: Tortilla soup (from Houston native Patsy Brautigam) vs. Vietnamese Chao Ca (from Huyen Doan of Saigon). Bonus: learn what to do with your Thanksgiving turkey carcass.
Nov. 12 — Lie to Me
Award-winning personality profiler Alice Weiser explains just what your handwriting, body language and voice inflection will give away about you. Learn seven significant signs of a serious liar.
Nov. 19 — Fish, Mammals, Reptiles, Amphibians and Birds
Bona fide naturalist Eric Duran of Nature Discovery Center will discuss the five classes of animals that have skeletons. Join us for a meaty presentation that gets down to the bone about vertebrates. Eric will treat us to a visit from some live animal guests! - A joint children's/LIFE program.
Nov. 26 — No Workshops Held

Dec. 3 — Construct a Beautiful Bow
Let Sony Simon and Jill Vu help you create eye-catching bows for this holiday season. All materials are supplied.
Dec. 10 — Tragedy, Survival and the Healing Power of Music
Join us for a preview of the Dec. 11 Books without Borders discussion on the The Cellist of Sarajevo. Listen to a live performance of the book's featured musical piece that served as a haunting tribute to lives lost, Remo Giazotto's Adagio in G Minor (attrib. to Albinoni), played by LSC student Olivia Alexandre. Hear Christopher Hernandez, a veteran, writer and police officer, discuss the tragic ethnic hatred in the area gleaned from his experiences working for the United Nations in the former Yugoslavia after the wars ended in 1999.
Dec. 17 — Make a Gingerbread House
Learn a little about the history of gingerbread and create  with your team your own dream gingerbread home. Susan Green and Claire Gunnels challenge your creative sparks.
Dec. 24, Dec. 31and Jan. 7 — No Workshops Held
Check out past programs at lsccyfairlife.blogspot.com. Call the library at 281.290.3214 for L.I.F.E. program information or go online to LoneStar.edu.