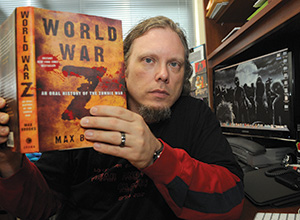 Jared Cootz, professor of sociology at Lone Star College-Montgomery, is one of six professors responsible for the vision of "Fear! Horror! Technology! A Faculty-Driven Focus on Student Success," the Lone Star Initiative nominated for the Bellwether Award.
An original Lone Star College-Montgomery initiative is in the
running for the "Heisman Trophy" of awards given to community colleges.
The Community College Futures Assembly has selected LSC-Montgomery's initiative "Fear! Horror! Technology! A Faculty-Driven Focus on Student Success" to apply for the prestigious Bellwether Award, which is often compared to college football's "Heisman Award" due to competitive judging and recognition by peer colleges throughout the nation. It is also described as the "award of awards" because many institutions with programs that have won other awards apply for the Bellwether.
"This nomination is the result of a collaborative effort from some very caring and innovative faculty members who just want the best for their students," said LSC-Montgomery president, Dr. Austin Lane. Administrative and faculty support from others such as Ann Bolman, Becky Duncan-Ramirez, Deborah Ellington, Deirdre Hayes-Cootz, Anitha Iyer, Rob Kreps, Molly Lasco, Michele Richey, Simone Andrade, and David Zimmermann "also made this project possible," he added.
The Lone Star initiative was bred in 2012 when six LSC-Montgomery faculty members from the English, psychology, and sociology departments decided to address issues with student engagement in class. Professors Natasha Alvandi, Karen Buckman, Jared Cootz, Brandy Harvey, Andrade and Zimmermann brainstormed some creative themes to put to the test, starting with fear and horror.
In each course, the instructor shines a light on the subject from a horror or fear point of view, focusing on elements such as monsters, urban legends, folklore, alternate realities, ethics, the zombie apocalypse and more, depending on the nature of the class. Additionally, both required and volunteer-based activities take place outside of the classroom during the semester, like food drives, guest speakers, blood drives, movies, panel discussions and more.
The idea proved popular among both students and faculty, and the program has grown from 13 professors in the first semester to 44 faculty members teaching this method. Everything from anthropology to biology, psychology, history, government and more are relating their courses to these subjects.
"They are going over well," said Jared Cootz, a professor of sociology at LSC-Montgomery. "This semester is 'heros, villains and pop culture'. Some people are doing reality TV, conspiracy theories, and popular TV shows. A large percentage of our faculty members are involved this semester."
Cootz indicated that the success and completion rate in these courses are significantly higher than other courses around campus; in fact, success rates are ten points higher in these classes.
This initiative isn't just about courses; the program is also beginning to introduce instructional spaces around campus as well. One space is the replica of a sort of coffee shop, with furniture and wall art. Another room has been turned into a high-tech space, and there are two additional rooms this semester.
"The new rooms have round tables and crazy stuff on the walls, and it gets students out of the idea of sitting in rows," Cootz said. "Everything is geared around best practices and effective student engagement, as opposed to preaching at them. Its more about what is going to get their attention and keep it."
This is the second time LSC-Montgomery has been nominated for this prestigious award. In 2006, the college's math department earned finalist status for its learning outcome assessment program.
The Community College Futures (CCF) Assembly, established in 1995, is sponsored by the Institute of Higher Education at the University of Florida. It focuses on cutting-edge, trendsetting programs that other colleges might find worthy of replicating. The Bellwether Awards are given annually to one of 10 finalists in each of three categories--Instructional Programs and Services; Planning, Governance and Finance; and Workforce Development--to colleges with outstanding and innovative programs and practices. The winner will be selected after each finalist gives a presentation on their program to the full CCF Assembly at its annual meeting in January in Orlando, Florida.
LSC-Montgomery is located at 3200 College Park Drive, one-half mile west of Interstate 45, between Conroe and The Woodlands. For more information about the college, call (936) 273-7000, or visit www.LoneStar.edu/montgomery.

Lone Star College System has been opening doors to a better community for more than 40 years. Founded in 1973, LSCS remains steadfast in its commitment to student success and credential completion. Today, with 78,000 students in credit classes, and a total enrollment of more than 90,000, Lone Star College System is the largest institution of higher education in the Houston area and one of the fastest-growing community college systems in the nation. Dr. Steve Head is the chancellor of LSCS, which consists of six colleges including LSC-CyFair, LSC-Kingwood, LSC-Montgomery, LSC-North Harris, LSC-Tomball and LSC-University Park, seven centers, LSC-University Center at Montgomery, LSC-University Center at University Park, Lone Star Corporate College, and LSC-Online. To learn more visit LoneStar.edu.