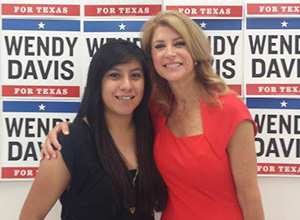 Montgomery College student Viviana Duran just completed a political internship course through Lone Star College-Montgomery, where she spent the semester working with the Wendy Davis campaign for governor.
Lone Star College-Montgomery students have the chance to
gain an invaluable peek into the real world of politics through an internship offered through the college.
"The reality of this course is that we are setting up a guaranteed internship for the student," says Fiona Ross, professor of political science at LSC-Montgomery. "They are paying for an experience that is being regulated and monitored, they are getting college credit for it, and it opens doors for further internships or opportunities,"
The program, gaining momentum in its tenth year at LSC-Montgomery, pairs students with offices of elected officials including United States Congressman Kevin Brady, State Representative Brandon Creighton, State Senator Silvia Garcia, the Wendy Davis campaign for governor; and city entities for students interested in municipal government, as well as lawyers or attorneys offices.
LSC-Montgomery engineering student Viviana Duran says she learned a great deal in the time she worked with the Wendy Davis campaign for governor.
"Growing up I didn't learn a lot about politics, and I'm not a political science major," Duran said. "But it has opened my eyes and changed my perspective on politics. I am now aware of how I can voice my opinion in elections. And now when I talk to someone about politics, I'm not completely lost."
The students work as interns for a minimum of 96 hours without compensation and are responsible for a wide array of tasks.
"In total, I completed around 120 hours," said LSC-Montgomery public relations and marketing student Soraya Herbert. "I interned with Congressman Brady's office and had a list of duties I needed to do. I handled anything from press clippings to answering constituent calls, or from handling people coming in to his office to general office duties."
Ross said that in addition to office-related tasks, the interns may participate in outreach activities and rallies, attend meetings, travel with representatives, and overall, just learn to work in a professional environment.
These internships may often lead to a paid job opportunity and Ross herself is surprised at the high number of her students that are offered positions through these internships.
"Most of the interns have to turn them down because they aren't trying to get a full time job out of it," Ross said. "However, one of our students working the Annise Parker campaign was a computer programmer and he did such a great job devising software for the campaign that they brought him back as a paid consultant."
To take part in the program, students have to enroll in GOVT 2389, which is an academic internship. The students receive a grade at the end of the semester, upon completion of the internship and the submittal of a required reflection paper.
"This internship is supported by documentation of their experience, how the process works, their understanding of the organizational sector, and the value they added to the organization," Ross said. "They don't have to be the most academically brilliant, however, we don't accept just everybody. They have to be great ambassadors for LSC-Montgomery, courteous, professional and capable of successfully completing the course."
LSC-Montgomery is located at 3200 College Park Drive, one-half mile west of Interstate 45, between Conroe and The Woodlands. For more information about the college, call (936) 273-7000, or visit www.LoneStar.edu/montgomery.

Lone Star College System has been opening doors to a better community for more than 40 years. Founded in 1973, LSCS remains steadfast in its commitment to student success and credential completion. Today, with 78,000 students in credit classes, and a total enrollment of more than 90,000, Lone Star College System is the largest institution of higher education in the Houston area and one of the fastest-growing community college systems in the nation. Dr. Steve Head is the chancellor of LSCS, which consists of six colleges including LSC-CyFair, LSC-Kingwood, LSC-Montgomery, LSC-North Harris, LSC-Tomball and LSC-University Park, seven centers, LSC-University Center at Montgomery, LSC-University Center at University Park, Lone Star Corporate College, and LSC-Online. To learn more visit LoneStar.edu.