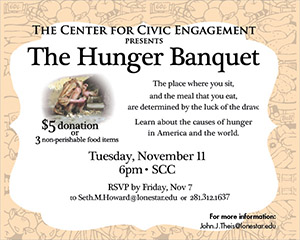 "The place where you sit, and the meal that you eat, are determined by the luck of the draw." This is the message Lone Star College-Kingwood's Center for Civic Engagement would like to address during a charitable event the center will be hosting on Nov. 11, based on the national Oxfam America Hunger Banquet program.
Oxfam America is a global organization working to right the wrongs of poverty, hunger, and injustice. Oxfam works to save lives, develops long-term solutions to poverty, and campaigns for social change. When guests arrive at an Oxfam America Hunger Banquet, they draw tickets at random that assign each to a high-, middle-, or low-income tier—based on the latest statistics about the number of people living in poverty. Each income level receives a corresponding meal. The 20 percent in the high-income tier are served a sumptuous meal; the 30 percent in the middle-income section eat a simple meal of rice and beans; and the 50 percent in the low-income tier help themselves to small portions of rice and water. A master of ceremonies reads a script to guide participants through the interactive event. Finally, all guests are invited to share their thoughts after the meal and to take action to right the wrong of poverty.
The Center for Civic Engagement will host the Lone Star College-Kingwood Hunger Banquet on Tuesday, Nov. 11, at 6 p.m. in the Student Conference Center (SCC) on campus.
"I believe that The Hunger Banquet is a unique and interactive way to get people informed on the issue of global hunger, as well as to see how much their own community is affected by it," said Kaleena Steakle, coordinator of the event. Entry to the banquet is a $5 donation or three non-perishable food items. Reservations are recommended by Friday, Nov. 7 and can be made by contacting Seth Howard at seth.m.howard@lonestar.edu or 281.312.1637.
Register now for credit classes online through myLoneStar. Classes are offered days, evenings, or weekends in traditional, Internet, video, TV and independent study formats. For more information on how to register online, visit LoneStar.edu/registration. For general information about Lone Star College-Kingwood, call 281.312.1600 or visit LoneStar.edu/Kingwood.
Lone Star College has been opening doors to a better community for more than 40 years. Founded in 1973, LSC remains steadfast in its commitment to student success and credential completion. Today, with almost 83,000 students in credit classes, and a total enrollment of more than 95,000, Lone Star College is the largest institution of higher education in the Houston area and one of the fastest-growing community colleges in the nation. Stephen C. Head, Ph.D., is the chancellor of LSC, which consists of six colleges including LSC-CyFair, LSC-Kingwood, LSC-Montgomery, LSC-North Harris, LSC-Tomball and LSC-University Park, seven centers, LSC-University Center at Montgomery, LSC-University Center at University Park, Lone Star Corporate College, and LSC-Online. To learn more visit LoneStar.edu.
####