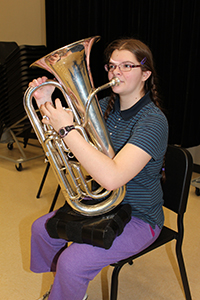 iSchool High whiz kid, Erin Maes, is just one of many exceptional students reaping the benefits of the unique partnership between the cutting-edge iSchool High at Montgomery-The Woodlands, a tuition-free public charter school, and Lone Star College-Montgomery.
At first glance Erin Maes might appear to be a typical high school student, barreling down the hall to music class with her bulky tuba case dragging beside her. However, typical Maes is not. She is a whiz kid, a rising star in education, and one of many exceptional students reaping the benefits of the unique partnership between the cutting-edge iSchool High at Montgomery-The Woodlands, a tuition-free public charter school, and Lone Star College-Montgomery.
Thanks to this invaluable partnership, Maes, an iSchool High junior, will have 32 college hours at the end of the spring 2015 semester, and the aspiring hopes of transferring to the University of Texas. Not only is Maes receiving an enhanced high school and college education simultaneously, but she is also a prodigy in the LSC-Montgomery Honors College and plays appassionato in the college's symphonic band.
iSchool High blends high school and college into one educational experience, allowing students the opportunity to earn their high school diploma, and up to two years of college credit, in four years – completely free. The school, which is conveniently nested on the campus of LSC-Montgomery, reduces the time and cost of obtaining a college degree, prepares students for college, reduces the need for remedial coursework, facilitates the transition between high school and college, and offers all the same college amenities allotted to the traditional college student.
"There is a true partnership between iSchool High and LSC-Montgomery," said Robert Riggs, campus director of iSchool High at Montgomery-The Woodlands. "Being embedded on the campus, the kids gain the incredible opportunity to start college as early as their freshman year."
Riggs expressed that because it is located on the college campus, iSchool students are thus granted the same opportunities as any traditional LSC-Montgomery student.
While on the LSC-Montgomery campus, iSchool High students experience small classroom settings, close student camaraderie, use of campus resources such as computer labs and the library, readily available tutorial resources, rights to student club or organization memberships, and much more.
Dr. Austin Lane, president of LSC-Montgomery, couldn't be more supportive of this academic union and the opportunities it presents to these ambitious high school leaders.
"Our mascot is the Maverick, and these students are truly mavericks," Lane said. "They are blazing trails for their futures by taking advantage of all that LSC-Montgomery has to offer. They are participating in all aspects of college life – not just inside the classroom. They are utilizing our tutoring, writing center, research resources, and even student activities and clubs. For many of these students, the transition to college is seamless, and we are here to help with whatever needs they may have."
iSchool High students agree that schooling on differences between high school and college class structure, policies, and teaching style is one of the most beneficial lessons they receive. Maes said that she appreciates knowing how she is expected to act in a college setting and will be much more prepared when she transfers to a major university.
Students have the ability to take anywhere from three to 12 college hours per semester, from the start of their high school career. However, it's a building block process so they must start out with a light load and demonstrate their capability during the semester to gradually add more college hours to their schedule.
iSchool student Andrew Carlson, who transferred from another private school and has already been accepted to Baylor University, Oklahoma State and the University of Arkansas, said that the school has impacted his life, and his family, in a big way.
"Not only am I saving my parents money with a free charter school, but I'm also getting some of my college courses out of the way at no cost. I already have 24 college hours behind me. So if I want to go to a college like Baylor, that is going to save my parents a lot of money."
"This school isn't for everyone," Riggs said. "iSchool students have to be academically focused and willing to work at an accelerated rate. They will need to be independent and self motivated, because we put them through a very rigorous and demanding schedule to best prepare them for college."
Enrollment is open to students year-round, but is granted on a first-come-first-serve basis to the first 100 per grade level, including new and returning students. Potential students must also pass the Texas Success Initiative (TSI) assessment, a college readiness test, which is given twice a year. Enrollment for the spring 2015 semester began Monday, December 1, and will continue into the spring 2015 semester.
For more information about iSchool High at Montgomery-The Woodlands, call (936) 231-8594, or visit
http://ischoolhigh.com/montgomery-the-woodlands/
.
LSC-Montgomery is located at 3200 College Park Drive, one-half mile west of Interstate 45, between Conroe and The Woodlands. For more information about the college, call (936) 273-7000, or visit www.LoneStar.edu/montgomery.

Lone Star College System has been opening doors to a better community for more than 40 years. Founded in 1973, LSCS remains steadfast in its commitment to student success and credential completion. Today, with 78,000 students in credit classes, and a total enrollment of more than 90,000, Lone Star College System is the largest institution of higher education in the Houston area and one of the fastest-growing community college systems in the nation. Dr. Steve Head is the chancellor of LSCS, which consists of six colleges including LSC-CyFair, LSC-Kingwood, LSC-Montgomery, LSC-North Harris, LSC-Tomball and LSC-University Park, seven centers, LSC-University Center at Montgomery, LSC-University Center at University Park, Lone Star Corporate College, and LSC-Online. To learn more visit LoneStar.edu.