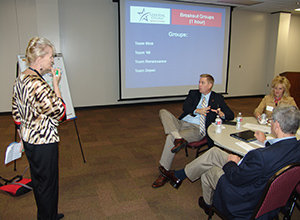 Dr. Brad Schnautz, principal of Magnolia West High School, provides input during the first meeting of the Lone Star College-Magnolia Center Community Advisory Group (CAG), held last month at the Graves Education Support Center. Deborah Ellington, left, academic dean at Lone Star College-Montgomery, facilitates discussion, along with Kelly Hamann, president of the Magnolia Parkway Chamber of Commerce, and Dr. Todd Stephens, Magnolia ISD superintendent. The CAG is meeting to help program the 65,000-square-foot center that will be built in the Magnolia area
More than two dozen Magnolia residents, business and
community leaders have joined with Lone Star College-Montgomery's leadership team to begin planning for the soon-to-be-constructed Lone Star College-Magnolia Center.
The center, which was part of the Lone Star College bond package approved by voters in the November 2014 election, will be approximately 65,000 square feet of learning space, on a yet-to-be-finalized site in Magnolia.
"We are engaging the community to see what types of programs, courses and services make the most sense to serve the needs of Magnolia and the surrounding area," said Steve Scheffler, executive director of college relations at Lone Star College-Montgomery. "LSC-Magnolia Center will impact this community in so many ways. Most important, it will provide pathways for students to achieve their goals, whether it be eventual transfer to a university, employment with an area business, or simply to learn a new skill."
The Community Advisory Group (CAG) met once in early December to do some initial brainstorming on what the community expects from a center – and what the most pressing educational needs are for Magnolia. It will meet periodically throughout 2015 to further discuss and plan for the center.
"One thing that we want the entire community to participate in is a survey," said Scheffler. "It's a quick, three-minute online survey that will give us a better sense as to what the community wants. It's one of many tools we'll be using to help program LSC-Magnolia Center."
The online survey can be accessed at
www.lonestar.edu/magnoliasurvey
.
Deborah Rose Miller, a Magnolia realtor and president of the board of trustees for the Magnolia Independent School District, is a member of the CAG. She feels the time is right to build a Lone Star College center in the area.
"Our community is ready – and excited – about this addition," Miller said. "Our LSC-Magnolia will have an incredible economic impact and will avail our students and community new opportunities. This is huge for Magnolia."
Other members of the CAG include: Dr. Todd Stephens, superintendent of Magnolia ISD; Dr. Anita Hebert, Magnolia ISD; Dr. Matt Clark, Magnolia ISD; Jeff Springer, Magnolia ISD; Dr. Brad Schnautz, Magnolia ISD; Dr. Jason Bullock, Magnolia ISD; E. Dean Frederick, Magnolia ISD; Brenda Marfin, Magnolia ISD; Gerry Luther, Magnolia Chamber of Commerce; Gary Vincent, Magnolia Volunteer Fire Department; Kelly Hamann, Magnolia Parkway Chamber of Commerce; Paul Mendes, City of Magnolia; Cecil Bell, Texas State Representative - District 3; Terry Albert, Texas Renaissance Festival; Candy Emmerich, First Bank; Kira Sears Elliott, Magnolia/Tomball Family YMCA; Linda Stuckey, Stuckey's Contract Services; Tom Conley, Backyard Radio; Steve Hoffart, Magnolia Pharmacy; Steven Lightfoot, TOMAGWA Healthcare Ministries; Charlie Riley, Precinct 2 Commissioner; Doug Campbell, Canrig Drilling Technology; Charlie Repka, LB Pipe & Coupling Products; Tom Grayson, Westwood Magnolia Parkway Improvement District; and Dr. Lynwood Randolph, retired professional living in Magnolia.
For more information about Lone Star College-Magnolia Center or the Community Advisory Group, contact Steve Scheffler at
steve.j.scheffler@lonestar.edu
or (936) 273-7224.
LSC-Montgomery is located at 3200 College Park Drive, one-half mile west of Interstate 45, between Conroe and The Woodlands. For more information about the college, call (936) 273-7000, or visit www.LoneStar.edu/montgomery.

Lone Star College System has been opening doors to a better community for more than 40 years. Founded in 1973, LSCS remains steadfast in its commitment to student success and credential completion. Today, with 78,000 students in credit classes, and a total enrollment of more than 90,000, Lone Star College System is the largest institution of higher education in the Houston area and one of the fastest-growing community college systems in the nation. Dr. Steve Head is the chancellor of LSCS, which consists of six colleges including LSC-CyFair, LSC-Kingwood, LSC-Montgomery, LSC-North Harris, LSC-Tomball and LSC-University Park, seven centers, LSC-University Center at Montgomery, LSC-University Center at University Park, Lone Star Corporate College, and LSC-Online. To learn more visit LoneStar.edu.