Beyond the Cy-Fair Republican Women's (CFRW) efforts to promote good government and patriotism working with school children and encouraging residents to become registered voters, members of the literacy committee organize activities participating in book donations.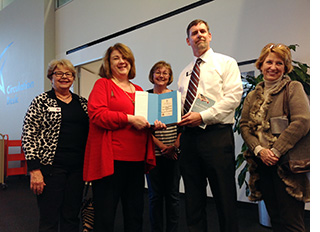 Recently committee members - Joy Gregory, literacy chair Gail Schubot, Mary Moss  and Jan Ott - donated two hard copy books -  Killing Patten by Bill O'Reilly and American Boomerang by Nick Adams – to the Lone Star College-CyFair Library Director Mick Stafford.
For information on other community efforts, go to www.cfrw.net.
For information on the library, go to LoneStar.edu/library.