Join Marcus Davis for "Chicken & Waffles, Catfish & Grits: Success is in the Mix" at Lone Star College-CyFair's next Speaking of Business Series presentation Feb. 25.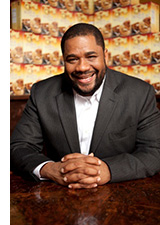 Owner of the Breakfast Klub – named 2011 Reader's Choice for breakfast – and Reggae Hut Café, Davis will share his philosophy of customer service and community relationships. Applying "community" as his guiding principle professionally and personally has led to his success story. Creating a unique dining experience in mid-town Houston in 2001, his restaurants now draw tourists worldwide.  
Don't miss this presentation, which will be held from 1 p.m. - 2:30 p.m. in the Conference Center at 9191 Barker Cypress.
Light refreshments will be served; however, space is limited.
The free Speaking of Business Series is designed to enhance the personal and professional development of future business and community leaders.
Sponsoring this series is LSC-CyFair's Business and Communication Studies Division. For information, contact Ellen Junious, at 281.290.3511.