It's not too early to start thinking about college, so take advantage of several spring events to learn about Lone Star College-CyFair's programs, admissions process and financial aid assistance.
While campus tours with an admissions presentation are available 10 a.m. and 2 p.m. Tuesdays through Thursdays and 10 a.m. Friday, several other events designed for high school students are also scheduled at LSC-CyFair at 9191 Barker Cypress Road.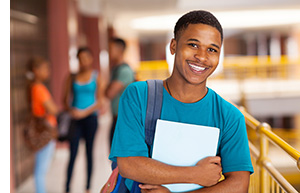 High school artists, musicians and vocalists should save the date Feb. 21 to attend the "Faculty Performance and Open House."  First enjoy a free concert featuring LSC-CyFair Music, Drama and Dance faculty along with student testimonials. Then stay for a reception and an open house to visit with faculty and students as well as receive information on specific programs including Vocal, Chorus, Musical, Commercial Music, Drama and Dance. For event information, contact department chair Alex Qian at 281.290.5985.
Sophomores and juniors interested in getting a jump start on college should consider taking Dual Credit. In addition to earning high school and college credit in classes that are transferable to most public universities and colleges, tuition is free, though some fees do apply. Make plans to attend an upcoming Dual Credit information session to learn about other program benefits, eligibility qualifications, available courses and the application process. Call 281.290.3426 or email CFC.DualCredit@LoneStar.edu for session dates.
Seniors ready to start college should attend an upcoming Enrollment Information Session available 3 p.m. – 5 p.m. Feb. 26 and 10 a.m. – noon May 30. In these sessions, high school students will learn how to enroll in college with staff who help simplify the admissions and financial aid process. . In addition, students will be able to complete their Bacterial Meningitis Vaccination Shot for $20. Register with your name and high school at CFOutreach@LoneStar.edu.
An opportunity for high school students to picture themselves at college is available from 9 a.m. -1 p.m. March 27 during LSC-CyFair's Preview Day. Students can experience a day in the life of a college student as they take campus tours, sit in on college classes and participate in intramural sports. They will also hear from students and staff about the numerous student organizations, transfer programs and workforce programs offered at LSC-CyFair. For information, email CFOutreach@LoneStar.edu or call 281.290.3420.
For information on the LSC-CyFair, go to LoneStar.edu.