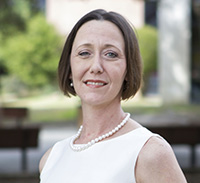 Lone Star College-Tomball student Rhiannon Donaldson has been selected as one of only six students across the country named to the Achieving the Dream Student Perspective Team. Members selected to the team were chosen from institutions across the country participating in the Achieving the Dream (ATD) program, which is dedicated to eliminating barriers to college student success.
As a member of the Student Perspective Team, Donaldson will serve a significant role with the ATD efforts at LSC-Tomball as well as efforts nationwide along with showcasing her vast experience when she attends the ATD national DREAM 2015 conference in Baltimore, Maryland, February 17-20.
The DREAM 2015 conference will bring together over 1,800 influential policy-makers, investors, thought-leaders, and practitioners from more than 200 colleges throughout 34 states and the District of Columbia, who are dedicated to addressing one of our nation's most urgent challenges: helping more community college students succeed.
Donaldson has already met the other five team members via a virtual conference call. The Team will present at a session near the end of the conference, sharing with attendees what they have learned and what, from their perspective, appear to be key factors in student success.
A student since the fall 2012 semester, Donaldson began her college career believing she would never serve in a leadership role. "I was not the traditional college student," she said. During her first semester, she hardly to spoke to another person on campus. She observed outgoing, successful students around her and thought, "That is not going to be me." However, her initial academic success opened her eyes to the fact that she had more to offer. "I remember my first research paper assignment. At the time, I didn't even know what a research paper was. But I worked so hard, concentrated on mastering exactly what the assignment called for and I made a perfect score. It was then I realized: I can do this."
The following semester, Donaldson began to get involved in student organizations. She initially joined the Student Activities Board (SAB), an advisory group for the Office of Student Life. "It was in SAB when I really started to come out of my shell," Donaldson said. Currently, she serves as the president of the college's Psychology Club. She is also the vice president of leadership for Phi Theta Kappa (PTK), the Honor Society for Community College Students. It was English professor and PTK advisor, Dr. Rebecca Tate, who recruited Donaldson for this latter role. "I knew that Rhiannon was the perfect candidate for PTK because the Society's programming is designed to cultivate leadership through community and institutional service, and Rhiannon was very interested in complementing her academic excellence with service."
Dr. Tate also brought the Student Perspective Team opportunity to Donaldson's attention and encouraged her to apply. "I knew that Rhiannon would be a perfect fit for the DREAM 2015 Student Perspective Team," Dr. Tate said, "because she's a great collaborator, intellectually curious, an excellent researcher, well-spoken, and empathetic to students from disadvantaged backgrounds."
Donaldson has already met the other five team members via a virtual conference call. The Team will present at a session near the end of the conference, sharing with attendees what they have learned and what, from their perspective, appear to be key factors in student success.
During the current academic school year, PTK adopted as its project theme, "Find a way or make one," a message that emphasizes the importance of grit in an individual's chance at success. During the fall 2014 semester, Donaldson led efforts to get PTK members into the classrooms of first-year students to share their own stories of academic perseverance. "We wanted to organically demonstrate to our fellow students how grit and growth mindset were vital components to personal success," Donaldson said. She was able to draw from this experience when applying for the Student Perspective Team. Dr. Tate explained how these local efforts go hand-in-hand with the Achieving the Dream initiative. "ATD is about providing students the tools they need to achieve their educational dreams, and the PTK project was designed to provide at-risk, first-time-in-college students peer models of grit and growth mindset so that those students could adopt and emulate the intangibles that are integral to college completion and success."  
Donaldson's personal motto, "Do it afraid," has led her from a self-doubting, non-traditional student to the role of enigmatic student leader. Aware of areas in which she needed to grow, such as public speaking, she does not shy away from opportunities to improve her skills as well as mitigate her apprehensions. "She has overcome her fear of public speaking," Dr. Tate said, "or at least has pushed through that fear so many times that she has actually become comfortable speaking in front of others."
Donaldson will graduate this May and will probably attend the University of St. Thomas, where she has already been accepted. Ultimately, she wants to study neuroscience, with a cognitive behavioral emphasis. The scared college freshman who could not imagine herself in a leadership role is now amazed by what she has accomplished in her three years at LSC-Tomball. "I am a servant leader," she said. "I hadn't realized it until given the opportunity. I'm so grateful I was."
-30-
Lone Star College System has been opening doors to a better community for 40 years. Founded in 1973, LSCS remains steadfast in its commitment to student success and credential completion.  Today, with 78,000 students in credit classes, and a total enrollment of more than 90,000, Lone Star College System is the largest institution of higher education in the Houston area and one of the fastest-growing community college systems in the nation.  Dr. Richard Carpenter is the chancellor of LSCS, which consists of six colleges including LSC-CyFair, LSC-Kingwood, LSC-Montgomery, LSC-North Harris, LSC-Tomball and LSC-University Park, seven centers, LSC-University Center at Montgomery, LSC-University Center at University Park, Lone Star Corporate College, and LSC-Online. To learn more visit LoneStar.edu.