In an effort to help empower disadvantaged women get job interviews, Lone Star College-CyFair is holding a campus and community-wide weeklong drive March 23-27 benefiting Dress For Success® Houston (DFSH.)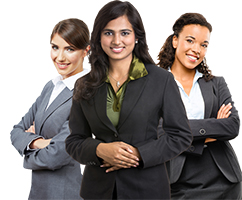 The college's Counseling, Career and Disability Services Department teams up again with this non-profit organization, which provides interview-appropriate suits and career development to aid low-income women entering the workforce.
"Dress For Success® Houston understands that if a woman doesn't have a job, she can't afford a suit.  But, without a suit, she can't get a job," said Kaye Lunsford, career counselor. "By donating professional attire, particularly accessories, to this year's drive, you will be helping someone less fortunate get on the road to success, including some of our students."   
Interview-appropriate women's suits (skirt or pant), blouses, gently-used professional handbags, gently-used close-toed shoes, scarves and new pantyhose will be accepted as well as check donations made payable to Dress For Success® Houston. Clothing donations should be dry-cleaned and on hangers. Monetary donations are welcome as only 15% of annual donations are in sizes 14 to 34, which is the size range of 60% of DSFH's clients. A $75 donation fully funds one suit and accessories.
Sign-in forms will be available for donations, all of which are tax-deductible. All donations should be dropped off between 8 a.m. and 6 p.m. at the front desk of Counseling, Career and Disability Services Department in the Center for Academic and Student Affairs (CASA 109).
While this drive is just one week, the college's career counseling services are available year-round, Lunsford said. LSC-CyFair offers face-to-face career counseling appointments, hosts monthly campus and annual community job fairs and provides other employment services and resources.
"From exploring, planning or changing a career path to writing resumes and practicing for interviews, our career services are free to students and the community," said Lunsford. "Through our DFSH partnership, we also have a referral program to further assist job seekers on campus and in the community."
For information on Dress For Success® Houston or their Send One Suit Month campaign, go to dressforsuccess.org/houston. For information on LSC-CyFair's referral program or career counseling, contact Lunsford at 281.290.3260.