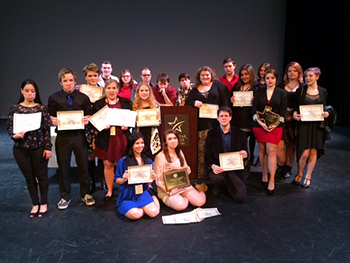 The Lone Star College-Tomball Drama department once again delivered during state competition, coming home with top honors from this year's Texas Community College Speech and Theatre Association (TCCSTA) State Play Festival held February 24-28 at Lone Star College-Kingwood.
LSC-Tomball's production of "The House of Blue Leaves" was awarded a Superior rating at the competition and actor Andi Dinehart received special recognition as winner of the Bill Morton Best Acting Award.
This is the fourth year in a row that an LSC-Tomball actor has received the Bill Morton Best Acting Award. This is a recognition that does not have to be bestowed each year if the judges feel it is not merited. Additionally, it may not be awarded to the same student actor two years in a row. "I could not be prouder of the LSC-T Theatre Department who consistently bring back multiple top awards from this state competition.   This long-term consistency of superior ratings is a true reflection of the students, director/professor Sherri White and Gary Cooper who assists with the technical component."  says Jill Riethmayer, LSC-Tomball dean of arts, business, behavioral sciences, and social sciences.
Below is a complete list of the awards bestowed on the LSC-Tomball cast and crew:
Bill Morton Best Acting Award—Andi Dinehart
Superior in Acting—Andi Dinehart
Superior in Acting—Jordan Merritt
Superior in Acting—James Hope
Excellent in Acting—Rachel Lagen
Excellent in Respondents Choice for Costume Design—Rachel Lagen
Excellent in Respondents Choice for Costume Design—Rebecca Lagen
Superior in Director's Choice for Program Design—Patricia Jara
Superior in Director's Choice for Property Design—Andi Dinehart
Superior in Director's Choice for Costume Design—Rachel Lagen
Superior in Director's Choice for Costume Design—Rebecca Lagen
Superior in Director's Choice for Lighting Design—Kevin Downs
Superior in Director's Choice for Stage Management—Kaylyn King
Superior in Director's Choice for Assistant Stage Management—Madeline Maske
Superior in Director's Choice for Assistant Director—Bri Short
Superior in Director's Choice for Sound Design—Lauren Chase
Superior in Director's Choice for Set Dressing—Andi Dinehart