Children can have fun this April with addition, subtraction and concept of fractions at the Kid's Corner after-school math programs at Lone Star College-CyFair.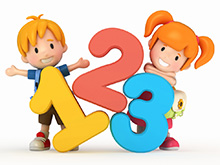 Four one-hour programs designed for pre-kindergarten through second-grade students are available in the library at 9191 Barker Cypress.
Focused on addition and subtraction using single and double digit numbers, "Mental Math: How Big or Small Can It Be" will be held at 5 p.m. Thursday, April 9 and again 6:30 p.m. Tuesday, April 14.
Focused on parts of whole objects and to help prepare children understand the concept of fractions, "Math is for Cutting Up" will be held at 5 p.m. Thursday, April 16 and again at 6:30 p.m.  Tuesday, April 28.
Children will be divided into four groups at each session and will visit four work stations with pre-service teachers leading different activities based on the math theme of the evening.  Sessions are limited to 35 participants, parents must be present and all are asked to arrive an hour in advance to receive a session ticket.
Email Sharon.K.Stefan@LoneStar.edu or Cynthia.J.Hoffart-Watson@LoneStar.edu for information.