Lone Star College students have announced they will conduct two open forums for all Lone Star College students, faculty, staff and the community to discuss House Bill937 and Senate Bill11 commonly referred to as campus carry.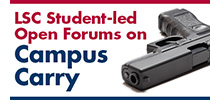 The pending legislation would allow individuals with Concealed Handgun Licenses (CHL) to carry concealed handguns on campuses of public higher education except in hospital and public school buildings on those grounds.
The open forums will be held at the LSC-Kingwood Student Conference Center, March 30 from 7 – 9 p.m. and at the LSC-CyFair College Center, March 31 from 2 – 4 p.m.
LSC-Kingwood will utilize a "deliberative dialogue" format with moderators to actively consider relevant facts and explore values from three points of view or choices:1) no guns on campus: 2) agree with SB to allow concealed guns on campus; and 3) amend SB to give local boards option of deciding. Reasoned public judgment conclusions will be developed and shared based on the discussions.
LSC-CyFair faculty will give attendees an overview of what constitutes a concealed weapon and then present a summary of the legislative process. Student representatives of the LSC-CyFair Debate Team and Student Government Association will present research to debate the pros and cons of the campus carry legislation. The forum will conclude by asking attendees to put themselves in the place of elected officials and cast their confidential "vote" via iPad.
Attendees at both forums will then break out into discussion groups to share information, opinions and perspectives, and the discussion groups will "report out" the key points from their discussion to all in attendance.
The results of the forum votes and key discussion points will be shared with the Lone Star College System Board of Trustees and elected officials.
"We feel it is important to have a frank and open discussion on the impact this legislation will have at our Lone Star College campuses," said Stephen Head, LSC chancellor. "We also want to get feedback to ensure we take appropriate measures should campus carry become law."