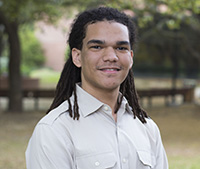 He has never been outside the country. He has never flown on a plane. He has never even been beyond the borders of the state of Texas.  But this July, 19 year-old Lone Star College-Tomball student Jeshua Johnson will be able to check all three of those experiences off his list, for he has been accepted into the Congress-Bundestag Youth Exchange for Young Professionals (CBYX).  The program provides selected students the opportunity to live, study, and work in Germany for a year.
Jeshua learned about this opportunity from his LSC-Tomball German language professor, Brenda Bauske. He was eager to apply because he believed going half way around the world would be a way for him to get closer to his own local roots. "I grew up in Tomball my whole life," he said, "and I know the town has a deep German heritage." A dedicated German-language student, Jeshua was inducted earlier this year into Epsilon Phi Delta, the German Honor Society for Community College Students of German. "Germans look at life differently than we do, from the workings of their political system to the nature of their design. To see this different perspective in person will be amazing," he said.
CBYX students will fly to Washington, DC, this summer for an orientation before flying to Frankfurt, Germany. There, they will be divided into smaller groups for a two-month language intensive. Following that, the students will be dispersed to colleges and universities all over Germany to study for a full semester. Jeshua will not know where he will be studying until he arrives in Europe. "I am both excited and scared," he said.
Jeshua began taking dual credit classes with the Lone Star College System in 2013 while attending Klein High School. When he became a full-time LSC-Tomball student last fall, he felt he was prepared for the college world because of his dual credit experience. "People are here because they want to be. Other students all have goals they are trying to reach and seem focused on reaching them," he said. Jeshua's goal is to become a Network Architect, the highest level of informational technology certification that CISCO provides. "I like the idea of connecting people. I've met so many friends online, all over the world. Becoming a Network Architect will allow me to enhance and improve the system."
Eventually, Jeshua plans to attend the University of Texas in Austin and earn a degree in computer engineering. "Ideally, I will have CISCO certification before I go to UT, so that I can work while I am there." He hopes that his college study in Germany will involve training for network certification. "It's funny," he said, "I thought that networking would give me a skill that I could use anywhere in the world, but at this point, I've gotten an opportunity to travel the world to improve my networking skills!"
Academics are not Jeshua's only endeavor. He is also involved in the extracurricular student organizations Deutschklub and Eco Club. In addition to his recognition in Epsilon Phi Delta, Jeshua was also inducted into the Phi Theta Kappa Honor Society this semester. "His acceptance into the CBYX program seems to be the icing on the cake!" Professor Bauske said. "I think everyone would agree that Jeshua has had an amazing year and put a high degree of effort into his academics. He is truly one of LSC-Tomball's star students!"
CBYX is a competitive program for which over 600 applicants applied this year, but only 75 were selected. In addition to the intensive German language training and semester of study at a German university, selectees will be given a five-month internship with a German company in the participant's career field, homestays with German host-families, transatlantic airfare, health insurance, and monthly living expense stipends. The fellowships are funded by the US and German governments through a grant provided by the US Department of State.