Bring the family to enjoy an entertaining afternoon "Street Beats to Beat the Heat" concert with Percussion One (P1) as they close their performance season May 17 at Lone Star College-CyFair.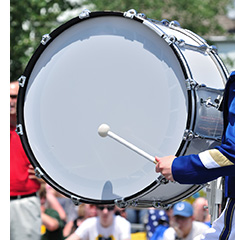 In 1994, Lamar Burkhalter founded P1, an independent high school drumline and percussion ensemble that serve as LSC-CyFair "Artists in Residence" and P1-13, an expansion of P1 providing instruction and performance opportunities for junior high/middle school percussionists
This May concert of musical compositions showcases the talents of these Houston area students on snare drums, tenor drums, bass drums, trash cans and closet rods. 
General admission is $8 for the 4 p.m. - 6 p.m. concert set in the Main Stage Theatre, located in the Center for the Arts on the Barker Cypress campus.
Tickets are available via e-mail at Info@percussionone.org or at 3:30 p.m. at the box office in the Center for the Arts building at 9191 Barker Cypress.
For information on Percussion One, go to percussionone.org. For information on LSC-CyFair, go to LoneStar.edu.
About Percussion One Foundation
This Texas 501(c)3 nonprofit organization is committed to education, performance and outreach through the creation of community based percussion ensembles. The Percussion One Foundation brings together musicians/percussionists from many diverse age groups, backgrounds and music programs to explore many areas of percussion performance while also improving their percussion and music education. For information, go to percussionone.org.